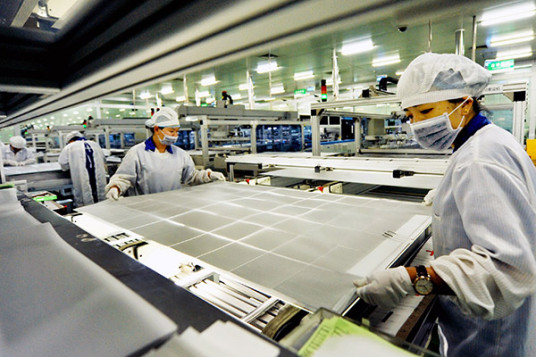 Two women operate on a production line of a solar panel making company in Shangrao, Jiangxi province. [Photo/China Daily]
LANZHOU -- Chinese researchers have developed a new photovoltaic technique that could improve the efficiency of solar cells and reduce their cost.
The new technique uses high-efficiency hole-and-electron-selective layers for both polarities on silicon substrate, which could improve the efficiency of solar cells to 15.1 percent, said Peng Shanglong, head of a research team at Lanzhou University in northwest China's Gansu Province.
He added that the new technique would allow the potential model of solar cells to avoid high-temperature processes, which makes it low-cost and efficient.
"Because of high equipment costs and complex techniques, traditional solar cells have long been limited in use on a large scale," Peng said. "It's of practical value to develop a new model of solar cells."
The findings have been published on Nano Energy, a major journal covering the science and engineering of nanomaterials and nanodevices.