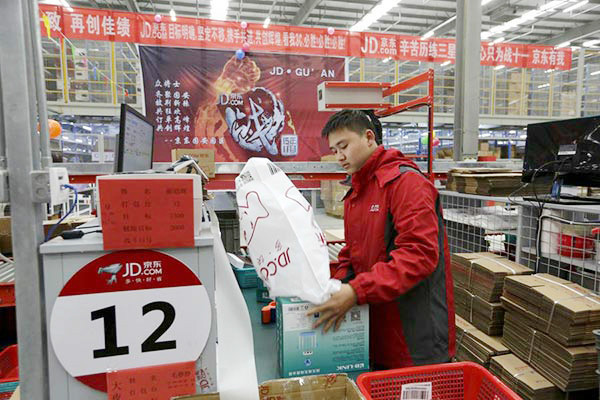 An employee works at a JD.com logistic center in Langfang, Hebei province, November 10, 2015. [Photo/Agencies]
Even with the rapid development of technology, especially in automation and artificially intelligence field, which can see tasks previously performed by humans taken over by robots, China is expected to create more jobs in both the manufacturing and service sectors, said an official from the World Bank.
"Since the global markets for manufacturing is expanding, our prediction is that the share of manufacturing jobs and the number of service jobs in China will continue to expand, much more than the last few years which were affected by the global financial crisis," said Simeon Djankov, director of the World Development Report 2019, at the release of the draft report in Beijing on June 6.
"But I think major job creation in China in the next decade is going to be in services, not in manufacturing," Djankov added.
The annual flagship report, published this year by the World Bank under the theme "The Changing Nature of Work", focused on whether technology development will cause job losses.
Manufacturing jobs were lost due to automation in a number of advanced economies and some middle-income countries, according to the report. Figures for the United States show that one additional robot for every 1,000 workers reduced the employment-to-population ratio by about 0.18-0.34 percentage points, and wages by 0.25-0.5 percentage points.
The report documented that new jobs were created due to technology. On the one hand, technological progress directly creates jobs in the technology sector. On the other hand, technology also facilitates the creation of jobs through online work or in the gig economy, it said.
The report cited many Chinese cases as examples because of the technology and job creation boom that happened in the country in the past decade, especially in the internet, e-commerce and fintech sectors.
In terms of manufacturing jobs, there was a rapid increase in China until 2010 and then it slowed down partly due to the global financial crisis, which was not specific to China but the global demand went down. In 2010 to 2014, it remained kind of stable. In the past three to four years, employment in manufacturing in China has again started to grow.
Why China is continuing to create jobs in both manufacturing and service sectors, and why the other emerging markets, in particular developing countries, are not able to do so well?
The answer seems to be that there is a positive link between technology and human capital, said Djankov. So, it's education, not just education in terms of school education, but the ability of people or workers to essentially use and adapt to new technology.
In countries such as China or some European countries where the educational systems are so well developed that even if people have to shift from other industries to new industries or to new technologies, they are able to do that and just as quickly while in most of developing countries where educational systems are not well developed, they simply cannot adopt these technologies.
In new sectors and even in more traditional sectors, countries such as China and Germany continue to increase their productivity faster, so it seems that labor in the economy is important in terms of where jobs are located. Therefore even if the wages in China are going to increase over the next years or decades, it doesn't mean jobs will shift.
"This is different from what happened in the past. Everybody expected that a lot of jobs will move away from China to countries with low wages but we predict that it's not in fact happening," said Djankov.
China's rapid advancement in the technology field also contributed greatly to relieve the employment burden of its large working population. JD.com, China's second-largest e-commerce company, was cited by the World Bank for the first time in the annual report as a typical example of the trend.
There are many examples of billion-dollar startups built around digital platforms. JD.com, which was started as a retail business in a tiny booth in Zhongguancun Electronic Shopping Market, Beijing, has 300 million active users as of April 2018.
JD Finance, a leading fintech platform in China, instead of hiring traditional loan officers, created more than 3,000 risk management- or data analytical-related jobs to manage database and sharpen algorithm for digitized lending.
"Chinese technology companies have changed the employment situation in the country by creating new jobs. For example, JD Finance hired a number of data scientists, risk control experts, and engineers," said Meng Zhaoli, dean of JD Fintech Institute.
Djankov, echoing the conclusion, said "there are a number of new technology companies that are creating completely new markets that didn't exist before."
Djankov also predicted a large expansion of the service market, including services for elderly care and education, in China. "Some of these services are provided for very few people, and once you create a bigger market, lots of people can participate in it," he added.
More than 66 million new urban jobs were added in 2017 in China, according to the Government Work Report in March.
The World Development Report 2019 will be officially released in October.