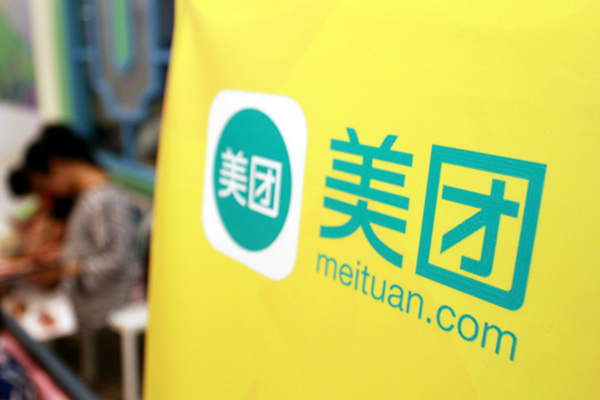 Customers wait to be served outside a restaurant next to a billboard of Meituan, a group-buying and takeout app, in Changzhou, Jiangsu province, July 17, 2016. [Photo/VCG]
HONG KONG - Chinese mainland on-demand online consumer services platform Meituan plans to file for an initial public offering of about $6 billion in Hong Kong as soon as this month.
The firm is considering selling about 10 percent of its equity, the minimum required under Hong Kong exchange rules, to avoid dilution, said one of the people familiar with the matter.
The company is targeting a valuation of roughly $60 billion, the person said, although the valuation and fundraising target won't be in the initial filing documents. With the first filing in June, the actual listing of Meituan shares is likely around October.
Meituan is considered a prime candidate to sell shares in the Chinese mainland as part of the government's program to give more opportunities to domestic investors. It's not clear yet when the sale of Chinese depository receipts will begin.
Meituan declined to comment on a potential IPO and said that it will make an announcement at a proper time if it has specific fundraising plans.
The IPO is another sign of China's rising might in the technology industry, which has become a flashpoint for trade tensions with the United States. A generation of up-and-comers such as Meituan are emerging to build out an industry that has been dominated by Tencent Holdings Ltd, Alibaba Group Holding Ltd and Baidu Inc.
With 320 million active users using its platforms and more than 4 million merchants listed on it, Meituan has become the country's largest provider of on-demand services spanning food delivery, hotel bookings, travel and entertainment ticketing.
According to the recent ranking of CB Insights, Meituan was the world's fourth-most-valuable startup with a valuation of $30 billion.
Through Meituan, people can find nearby restaurants, reserve hotels, order takeouts, book a film ticket, all with a tap on a smartphone screen. The company also entered the ride-hailing sector recently to link dining with transportation, where users can directly book a taxi where they reserved a restaurant table for dinner.
"The ultimate test for the digital economy's effectiveness is whether or not it is serving ordinary people's life needs. We hope to serve a total of 1 billion people each day through technological innovations. We would like to help people to 'eat better, live better'," said Wang Xing, chairman and CEO of Meituan, recently.
The Beijing-based company said it will start trial operations of its driverless delivery vehicles this year. It will also promote the service on a large scale in 2019 to make the dream of 24-hour delivery a reality.
Bloomberg - China Daily