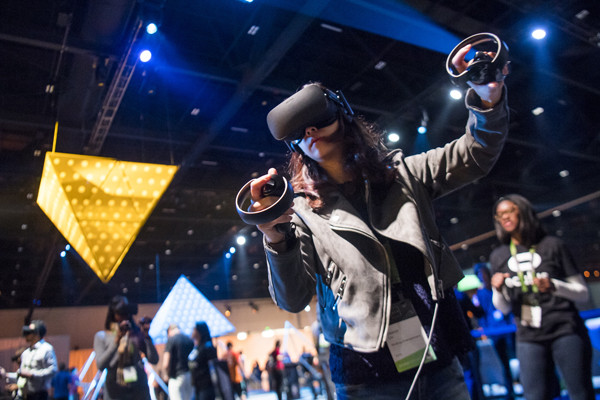 A visitor operates a VR headset of Oculus during a high-tech exhibition in the United States. The company and its Chinese partner are tapping the domestic market with affordable and high-quality VR products. [Photo/Agencies]
Move to make tech affordable, accessible for ordinary users
Oculus, the virtual reality or VR equipment maker backed by Facebook Inc, is partnering with smartphone vendor Xiaomi Corp to crack the Chinese market, as part of their joint push to allow more people to experience high-quality VR at affordable prices.
Hugo Barra, vice-president of VR at Facebook, said at the Consumer Electronics Show in Las Vegas, "Oculus and Xiaomi are jointly announcing a new standalone VR product that is designed specifically for the Chinese market, which will be known as Mi VR."
Under the partnership, Xiaomi will also be the hardware partner for launching the Oculus Go globally.
The two handsets will look and even work the same way. They are designed to bring more freedom and accessibility to VR. Without the need to be attached to a PC, a cable, external sensor, or a dropped-in mobile phone, standalone handsets are the latest trend in the burgeoning VR sector.
Oculus' main rival HTC Corp also unveiled a premium standalone VR headset for the Chinese mainland market in November, as part of its broad efforts to target young consumers with a more affordable device.
"The standalone VR ... represents the next significant phase of VR hardware development at Oculus. Through our partnership with Xiaomi, both the Oculus Go and the Mi VR Standalone represent our first step in delivering that sweet spot between mobile and PC VR. These devices will be, hands down, the easiest way to get into VR," said Barra, whose previous job was at Xiaomi as vice-president.
The two VR standalones both use a Qualcomm Inc Snapdragon 821 system-on-a-chip, but they will run different software. The Oculus Go is priced $199, and the price for the Mi VR is yet to be disclosed.
Tang Mu, head of the Mi Lab at Xiaomi, said the company aims to work with Oculus with a goal of creating standalone devices that exceed expectations in terms of performance at a very attractive price.
After being touted as the hottest hardware form from late 2015 to early 2016, VR ran into cold currents in the past year due to its extravagant price and scarce content.
According to research company Digi-Capital, the global investment records for VR and augmented reality were broken last year as startups raised more than $3 billion across 28 AR and VR categories, with the number in the fourth quarter of 2017 topping $1.5 billion.