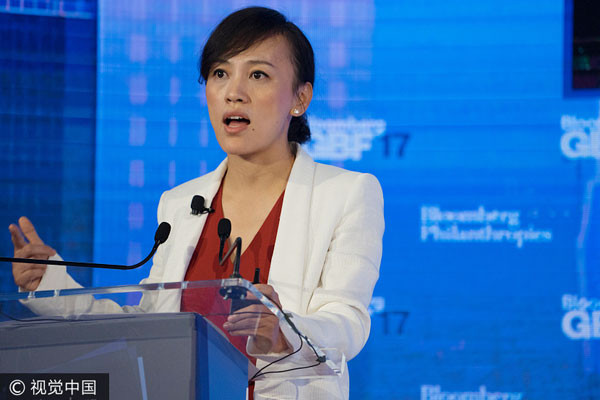 Jean Liu, president of Didi Chuxing, speaks during the Bloomberg Global Business Forum in New York on Sept 20, 2017.[Photo/VCG]
Chinese company DiDi Chuxing entered the Brazilian sharing economy by acquiring the local app 99. With the acquisition 99's market value is estimated to be $ 1 billion, making the company a new unicorn (the term defines start-ups worth more than $ 1 billion).
DiDi becomes the second ride-sharing start-up in Brazil, behind the pioneer Uber but growing in presence.
99 was founded in 2012 by three entrepreneurs in a small office in São Paulo, the financial capital of Brazil. Four years later, in January 2016, DiDi Chuxing arrived as a partner, with a seat on the director's board, after acquiring 10 percent stake. Months later, through an investment by SoftBank, the share rose to to 20 percent.
In September last year, Liu Qing, Didi Chuxing's president, presented the company to a Brazilian delegation which included not only 99's executives but also Brazilian politicians and academics:
Liu said, "We are responsible for more than 20 million daily rides in China alone, offering not just transport solutions more efficiently but processing data about mobility and users necessities that are helping traffic control and transit officers in big cities. Traffic jams are being reduced thanks to our data and cooperation, like we have with Jinan, capital of Shandong province."
She did not mention then any plan to buy 99's operation in Brazil, but was clear about increasing cooperation. Now with the deal disclosed, it is easy to identify DiDi Chuxing's acquisition as its first step in a huge market in Latin America. The company did not comment on the transaction, but Argentinean and Mexican markets could be explored in the future, according to sources close to the expansion plans. Worth remembering that the last investment round for DiDi happened last December. SoftBank and the state fund Mubadala from Abu Dhabi invested $ 4 billion into AI, new technologies and global expansion.
99 was born as a taxi-hailing app, and much later expanded its services to private cars with its 99Pop solution. The company is present in more than 500 Brazilian cities but is still far behind Uber in the country. While Uber has 10 million daily rides, 99 accounts by 1.5 million. But there is space to grow. The country has more than one mobile phone per inhabitant. The mobile lines in Brazil are little more than 240 million, with a penetration rate of 138 percent. And a recent research carried out by the retail sellers' national association in the country, 79 percent of consumers said that shared economy makes life easier while 68 percent of them nationwide have said that they will adopt some kind of shared feature in next two year. Ride sharing is the second best-known shared economy service for the Brazilian consumers (39 percent) while shared houses rank as first (40 percent).
Even if Brazil is a huge market, its cities are far smaller than Chinese. In the South American country, 17 cities have more than 1 million inhabitants. São Paulo, where 99 is headquartered, is the only one with more that 10 million people. The second, Rio de Janeiro, has around 8 million. In contrast with an apparent lower demand, it's clear that public transport systems are lacking. São Paulo, for example, has 6 subway lines covering 78 km – it's the biggest in Brazil. Rio de Janeiro has 3 lines, totaling 58 km. There is a need of starters' solutions, and DiDi could help with its experience in China.
For Brazil, it is a great news, not just because DiDi can improve 99 efficiency, but because the deal amplifies Chinese investment in the country. According to Brazilian federal government, in a research published later last year, China has invested $ 117 billion in Brazil in the last years. But 45 percent of those businesses were related to energy, mining and agribusiness. Now, it's time to learn with the booming Chinese shared economy.
Janaína Camara da Silveira is a communications consultant at Radar China and a master's of economics candidate at Unisinos University in Brazil.