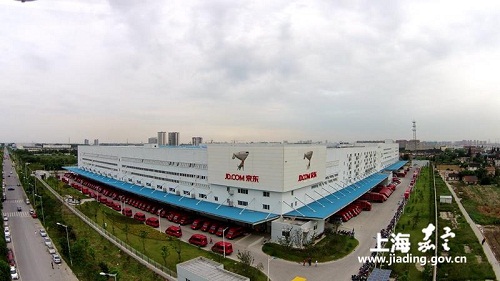 Chinese e-commerce giant JD.com's "Asia No 1" logistics center in Jiading district, Shanghai is fully automated. [Photo/jiading.gov.cn]
Chinese e-commerce giant JD.com announced on Oct 9 that the construction of its first unmanned warehouse has been completed.
Located at JD.com's "Asia No 1" logistic center in Jiading district, Shanghai, the warehouse covers a combined floor area of 40,000 square meters and has a maximum storage capacity of 60,000 boxes of goods.
According to the company, all operations in the warehouse are fully automatic, including receiving goods, storage, packaging, and sorting.
The company claims that it is the first facility of its kind in China, and possibly the world.
It is equipped with nearly 1,000 robots whose functions vary, including three types of six-axis mechanical arms used for storage and packaging and three types of automatic guided vehicles for sorting.
Technologies such as 2-D and 3-D visual identity are employed in the robots, making them capable of "clearly seeing" their surrounding environment, allowing them to avoid barriers and move efficiently.
Once it is put into operation, the warehouse's handling capacity is expected to exceed 200,000 orders per day, according to insiders at JD.com.
The unmanned warehouse greatly improves work efficiency in the logistics sector. For instance, robots are able to sort 3,600 items per hour, five to six times more than a typical human worker.
The warehouse is also green and environmental friendly. Its roof is made of solar panels, which store excess power generated during the daytime to supply electricity at night.
JD.com has also added an optimization algorithm for packaging materials to the warehouse's management system to make the best use of all materials and reduce waste.
According to Liu Qiangdong, founder and CEO of JD.com, the company expects to use artificial intelligence technology to reduce costs, improve operational efficiency and create a sound online shopping environment for customers.