Not satisfied with the title of "China's Silicon Valley", Beijing's Zhongguancun Science Park is expanding its influence along the Belt and Road.
As a hub of technology innovation in China, Zhongguancun has attracted more and more high-tech companies from overseas countries, especially those along the Belt and Road.
The world's largest startup accelerator Plug and Play Tech Center opened innovation platform in the science park last year. Global Health Drug Discovery Institute initiated by Tsinghua University and Gates Foundation also settled in Zhongguancun in 2016.
Statistics shows that companies based in Zhongguancun Science Park have applied for more than 69,000 patents as of the end of 2016, playing a key role in developing artificial intelligence, biomedicine and new materials.
"The Belt and Road Initiative provides new opportunities to the development and upgrading of Zhongguancun," said Zeng Xiaodong, director of international business in Zhongguancun Science Park administrative committee. "We would like to share our high-tech industries with the world and we aim to strengthen our country through technology innovation," Zeng said.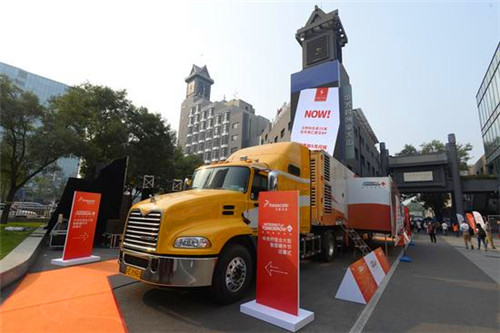 The "Internet of Tomorrow" Tour of Freescale Semiconductor Inc appears at the first hard-tech products festival held on Zhongguancun Inno Way in September, 2015. [Photo by Wang Jianhua/Xinhua]