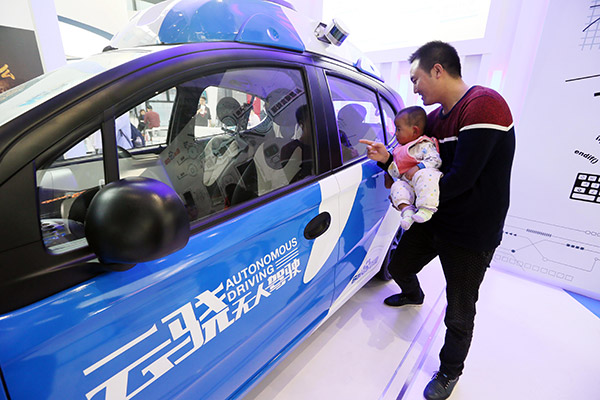 Visitors look at a Baidu self-driving car at an exhibition in Hangzhou, Zhejiang province. [Photo/China Daily]
Design firm's CEO sees scope for ties in net-ready electric vehicles
Baidu Inc is in discussions with Dassault Systemes, a French 3-D design software maker, for cooperation in electric cars and smart city projects.
Bernard Charles, CEO of Dassault Systemes, said there is big room for partnership in internet-connected cars.
His remarks came after a meeting with Zhang Yaqin, Baidu's president, on the sidelines of Boao Forum for Asia, which was held last week in Hainan province.
Their meeting followed Baidu's announcement that it has led an undisclosed amount of investment in NextEV, a Chinese electric car startup that aims to rival Tesla Inc in the burgeoning industry.
"NextEV is our client which uses Dassault Systemes to design the next generation of cars. How will NextEV engineers use Baidu's online services to make better driving experience? We are the belt (linking the two)," Charles said in an exclusive interview with China Daily after his meeting with Zhang.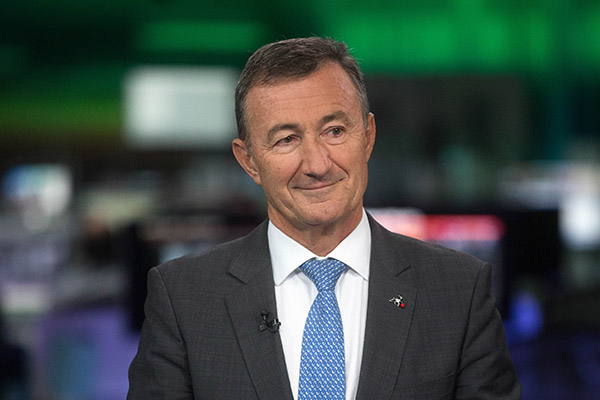 Bernard Charles, CEO of Dassault Systemes. [Photo provided to China Daily]
He declined to share details of the planned cooperation but hinted at areas open to partnership. "We have a virtual city program in Singapore, and Baidu has a lot of data on how citizens are living in the city. There are also connecting points."
Dassault Systemes has collaborated with the National Research Foundation, a department within Singapore's Prime Minister's Office, to develop Virtual Singapore, a 3-D city model platform for knowledge-sharing and community collaboration.
Launched in December 2014, Virtual Singapore is a collaborative platform with a rich data environment and visualization techniques that is used by Singaporeans and local businesses to develop tools and services that address the emerging and complex challenges that the island-nation faces.
Baidu Inc is stepping up efforts to diversify growth engines after its core search engine business suffered several setbacks in its home market last year.
"Baidu is also working to provide cloud infrastructure. We can provide our 3-D experience on the cloud," Charles said.
Zhang Zhiyong, founder and CEO of Wenfeng Automobile Consultancy, said by partnering with Dassault, Baidu can make its online services integral to electric cars from the design stage.
"The ties, once extended to virtual reality, can also boost Baidu's competitiveness, given Dassault's years of experience in that area," Zhang said.
The French company is also passionate about the application of virtual reality in China's manufacturing industry.
"As the cost quickly goes down, over the next five years, I believe the industrial application of VR will go at the speed of flight, just like how the mobile internet is changing consumers' lives," Charles said.