Zhongguancun Science Park boasts 65 of the world's most valuable innovative startups, second only to Silicon Valley in the United States, because of its advanced service platform for new companies.
In 2016, the park's unicorn companies -- startups valued at more than $1 billion (6.87 billion yuan) each, increased by 20 percent year-on-year, according to the Zhongguancun Unicorn List released on March 1 by the Great Wall Enterprise Institute, a professional consulting institute in Beijing.
Unicorn startups settled in Zhongguancun account for half in China, including three super-unicorns worth more than $10 billion each, namely Xiaomi, Didi and Meituan-Dianping.
Leading technology company Xiaomi, valued at $46 billion, is Zhongguancun's richest startup, followed by Didi, China's largest ride-hailing app, valued at $33.8 billion. Group purchase app Meituan-Dianping, valued at $18 billion, came in third.
Technologically innovative companies dominate the list, involved in areas such as e-commerce, internet finance, culture, entertainment, and transportation.
The 32 new names on the list, such as SenseTime, Unisound and Megvii, are engaged in artificial intelligence, big data, cloud services and internet security.
The list also estimates that new unicorn companies will emerge in the fields of sharing economy and intelligent economy.
Guo Hong, director of the management committee at the Zhongguancun Science Park, said growth of billion-dollar companies relies on technology innovation, new business models, the ability to attract investment and vision for potential markets.
"Zhongguancun has become a technology and innovation center with worldwide influence," said Guo. "We are honored to witness the dramatic growth of unicorn companies and will continue to support and serve them."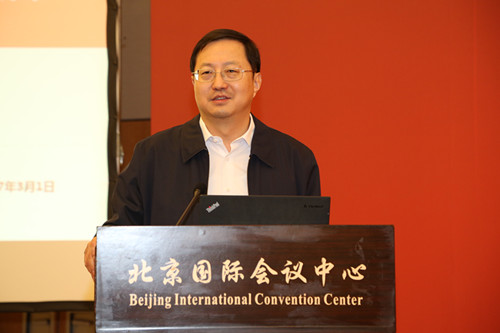 Guo Hong, director of Zhongguancun Science Park administrative committee, gives a speech at a conference held in Beijing International Convention Center on March 1. [Photo provided to chinadaily.com.cn]