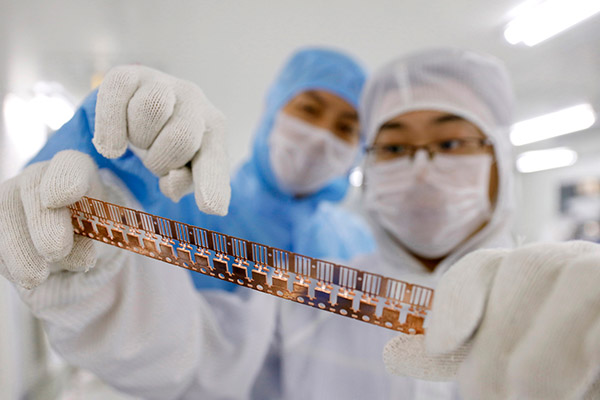 Workers inspect an electronics circuit board processed by intelligent machines at an industrial park in Huaying, a county-level city in Sichuan province, Southwest China, on July 20, 2016. [Photo/China Daily]
A growing number of Chinese companies are gearing up for digital transformation-the transformation of business activities associated with applying digital technology to all aspects of society-in a move to boost engagement with consumers and improve digital customer solutions, according to a report.
The quarterly report for January to March, released by global recruitment specialist Hays plc, indicates that many Chinese companies will invest in technology in the first quarter and go on a hiring spree after the Spring Festival.
According to the report, companies will speed up their expansion in all areas of e-commerce and digital marketing and there will be a big surge in China's digital transformation in 2017.
Simon Lance, managing director of Hays in China, said both domestic and foreign companies were aware of the role of e-commerce and digital marketing in economic growth, and the success of digital transformation would depend on the corporate sector's strategy for big data.
"Over the last year, we've seen businesses go through growth cycles and manage disruptions in the marketplace," Lance said.
"We continue to see a rise in the demand for such roles as consumer marketing and customer analytics, as the expanding drive to put the customer first and understand the customer continues."
Dong Xu, senior analyst at Beijing-based market research company Analysys, said it was of key importance for companies to analyze the value of digital clients and introduce and implement big data to increase revenues.
"It is the future. Using big data and other technologies, companies are able to improve their operating efficiency, reduce costs and avoid risks," Dong added.
The report by Hays also noted that there could be a spike in recruitment of developers during January to March, especially those with Java and Oracle skills.
"Digital marketing candidates with proven experience in developing compelling and engaging digital experiences will stand out," Lance said.
Review of data indicates that the digital transformation process continues to gain momentum internationally.
By the end of 2017, two-thirds of CEOs in Global 2000 enterprises will put digital transformation at the center of their corporate strategies, according to a recent report by research firm International Data Corporation.
IDC predicted that by 2020 companies globally would spend more than $500 billion on cloud services, hardware and software to support cloud services, as well as services to implement and manage cloud services-more than three times spending levels in 2015.