Cultural activities deepen China-Russia relations
The 2017 Russia-China Tour -- Jilin Culture Week was held in Russian cities recently to mark the 60th anniversary of the establishment of the China-Russia Friendship Association.
The event opened on Oct 23 in Moscow and closed on Oct 27 in St.Petersburg. This is the third Jilin Culture Week to be held in Russia.
This year's event focused more on promoting China's image and Jilin's culture, compared to those of previous years.
Representatives of both the delegations of China and Russia mentioned that the cultural exchanges will increase the understanding between people from the two countries and deepen their friendship.
During this year's event, participants were able to enjoy an intangible cultural heritage gallery and learn skills for making traditional Chinese art-wares. They also viewed films about the province produced right at home in Jilin.
In addition, a classic Peking Opera performance, "Monkey King", was staged and attracted many people.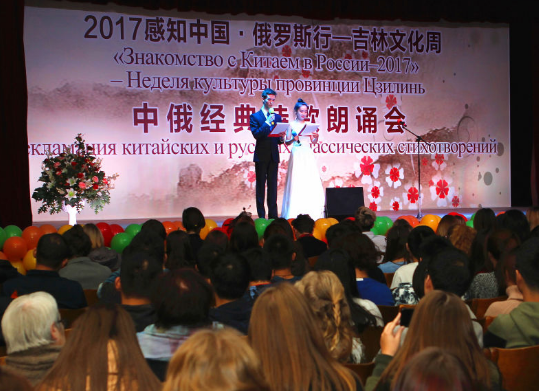 A Russia-China poem reading and singing performance was organized by college students from the two countries on Oct 26. [Photo/cnjiwang.com]
Several agreements on exports of copyrighted books were signed on Oct 24. These books cover many issues such as Chinese history, translation of Chinese and Russian poems and tourism in Jilin. They help Russian people learn Chinese language and encourage them to travel in Jilin province.
During the five-day activity, a poem reading and singing performance was also held by Chinese and Russian college students.
Jilin Culture Week was initiated in 2011, and has been held in many countries other than Russia, including Mongolia, the US and France. Local performances, galleries and films of Jilin scenery, and intangible cultural heritage demonstrations were shown during the events.
The activity intends to promote Jilin's culture, recent developments and business opportunities to Russian people.