Jingxin Wetland welcomes rare birds in early spring
Hundreds of thousands of wild geese and several red-crowned cranes have arrived at Jingxin Wetland, Jilin province, recently in the middle of March when snow is still not totally melted in North China.
In the migration groups, visitors can see several young red-crowned cranes only months old. The younger ones are protected by the adult birds, swimming in the water and preening their feathers.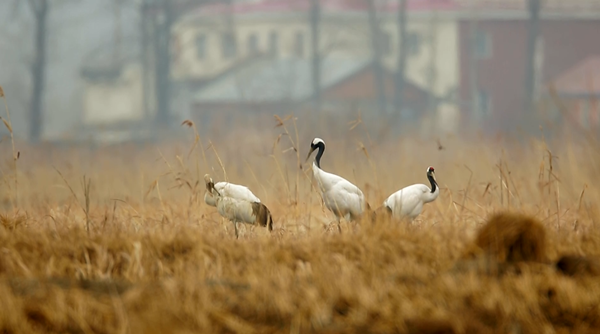 Red-crowned cranes rest in the wetland, preening feathers.[Photo provided to chinadily.com.cn]
Wan Fuxing, a photography enthusiast, said "I would visit the wetland everywhere, filming the birds, and I'm so glad that I can see more than 30 red-crowned cranes and thousands of wild geese this year."
As more and more birds arrive at the wetland, the number of tourists and photographers grows. Some policemen and officers from the frontier forces were arranged to help staff at the wetland remind visitors of bird protection rules.
Wu Zhigang, a researcher at the Jilin Province Academy of Forestry, said Jingxin Wetland is an important stop for migratory birds.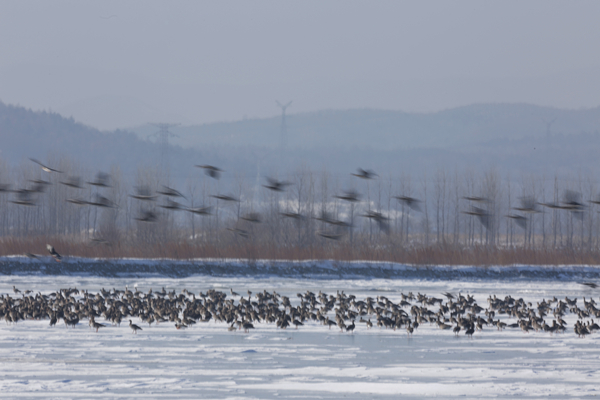 Millions of wild geese arrive in Jingxin Wetland in the early spring.[Photo provided to chinadaily.com.cn]
"There are millions of birds, including red-crowned cranes, white-head cranes, and white-naped cranes, that rest in the area every spring, which makes it significant for the wetland to offer high-level protection for the rare water birds and cranes," Wu explained.
The forestry departments around Jingxin Wetland have strengthened protection of these wild birds in recent years. Government staff visited villages to promote laws about wildlife protection and remind residents not to hunt.
Meanwhile, closer inspections of bird epidemics have been instigated and every day there will be a specific staff to monitor bird conditions to ensure the health of both birds and visitors to the wetland.