China Southern Airline serves Jilin cadres aiding Xinjiang
China Southern Airlines Jilin Company successfully transported 212 Jilin cadres to provide aid to the Xinjiang Uygur autonomous region on Feb 22.
China Southern Airlines has been responsible for guaranteeing high-quality transport and good service for cadres entering Xinjiang since April, 2010, when Jilin was appointed to provide help to Xinjiang at a central meeting focused on Xinjiang issues.
The Airline opened the first direct flight from Changchun, capital of Jilin, to Urumqi, capital of Xinjiang in July, 2010, which decreased travelling time and spared more time for concentrating on aid issues.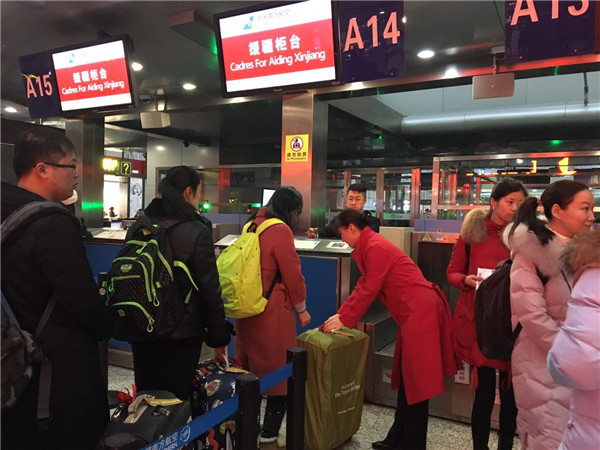 Cadres wait in line for check-in with the help of China Southern Airlines staff. [Photo provided to chinadaily.com.cn]
People going to Xinjiang for a long period need to take extra luggage. Recognizing that the baggage weight limit for ordinary passengers may not be enough for the cadres, China Southern Airline released a Xinjiang Aid Card in 2012 allowing for 20 more kilograms of luggage.
In addition, other special services for cadres aiding Xinjiang such as a 24-hour flight timetable, flight ticket reservations and telephone reservations were also provided to guarantee transport.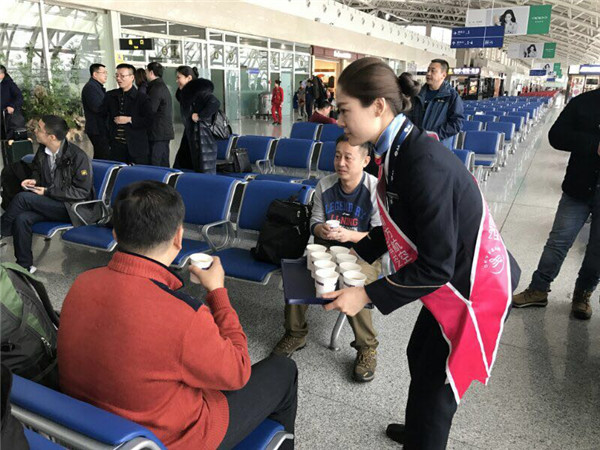 Staff at China Southern Airlines offer refreshments to cadres aiding Xinjiang at the airport terminal. [Photo provided to chinadaily.com.cn]
The 212 cadres left Changchun on Feb 17, 19 and 22, transferred in Urumqi and finally landed at the Altay region. Their checked baggage was collected the day before their flights and special check-in counters and security check-in channels were arranged to ensure quick boarding.
To date, China Southern Airline has transported more than 1,300 cadres and over 40,000 kilograms of material for Xinjiang aid.
One of the cadres, Zhou Xiaobing, said "China Southern Airline has provided good service for years, which offers us great convenience to fulfill the aid mission."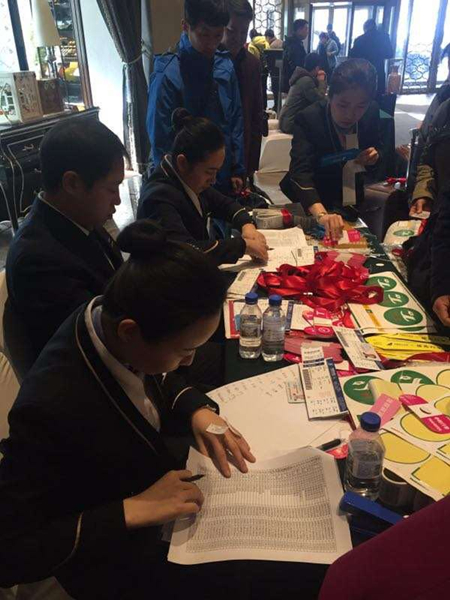 Staff at China Southern Airlines help cadres register. [Photo provided to chinadaily.com.cn]