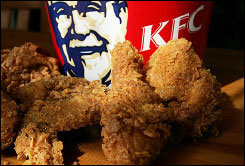 It is a "myth" that fast food meals are the same around the world, researchers from the University of Copenhagen concluded in a study presented at the the European Congress on Obesity in Budapest.
The study, which looked at French fries and fried chicken at McDonald's and Kentucky Fried Chicken (KFC) outlets in 35 countries over the past two years, pointed in particular to high levels of industrially-produced trans fatty acids in Eastern European KFC restaurants.
In Bulgaria, the Czech Republic, Hungary and Poland, levels of such fats reached between 29 and 34 percent of fat content.
This compared with less than two percent at KFC outlets in India, Russia and Spain.
"The results show that the same product by the same provider can vary in fat calorie content by more than 40 percent and in trans fat content by several orders of magnitude," the researchers, led by Professor Steen Stender, said in a statement.
The study also found variations at McDonald's, with trans fat levels of 20 percent registered in Oman compared with 15-16 percent in London.
Professor Philip James, the chair of the International Obesity TaskForce, pointed out that there had been "a steady stream of papers showing how these fats interfered with the normal metabolism of the essential oils and altered cholesterol blood levels disadvantageously."
"So it is alarming that the food industry has paid so little attention to this and still includes trans fats in such astonishingly great amounts in fast foods," he added.
Denmark introduced a ban on trans fats in 2004.
The study was presented before 2,500 specialists attending the Budapest conference.