Bali, a tropical island in the Indonesian archipelago, is so picturesque and immaculate it could almost be a painted backdrop. It has rice paddies tripping down hillsides like giant steps, volcanoes soaring up through the clouds, dense tropical jungle, long sandy beaches, warm blue water, crashing surf and friendly people who don't just have a culture but actually live it. In Bali spirits come out to play in the moonlight, every night is a festival and even a funeral is an opportunity to have a good time.
Bali may be small in size –you can drive around the entire coast in one long day –but its prominence as a destination is huge, and rightfully so. Ask travellers what Bali means to them and you'll get as many answers as there are flowers on a frangipani tree. Virescent rice terraces, pulse-pounding surf, enchanting temple ceremonies, mesmerising dance performances and ribbons of beaches are just some of the images people cherish.
Small obviously doesn't mean limited. The manic whirl of Kuta segues into the luxury of Seminyak. The artistic swirl of Ubud is a counterpoint to misty treks amid the volcanoes. Mellow beach towns like Amed, Lovina and Pemuteran can be found right round the coast and just offshore is the laid-back idyll of Nusa Lembongan.
As you stumble upon the exquisite little offerings left all over the island that materialise as if by magic, you'll see that the tiny tapestry of colours and textures is a metaphor for Bali itself.
And those are just some of the more obvious qualities. A visit to Bali means that you are in the most visitor-friendly island of Indonesia. There are pleasures of the body, whether a massage on the beach or a hedonistic interlude in a sybaritic spa. Shopping that will put 'extra bag'at the top of your list. Food and drink ranging from the freshest local cuisine bursting with the flavours of the markets to food from around the globe, often prepared by chefs and served in restaurants that are world class. From a cold Bintang at sunset to an epic night clubbing in Kuta, your social whirl is limited only by your own fortitude.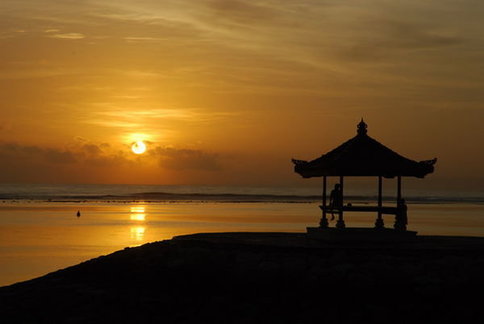 Bali Sunrise