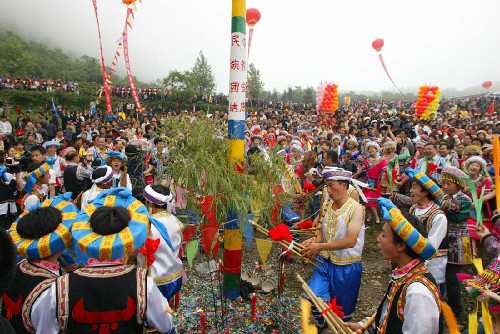 Hanayama tread Festival (Huashan Festival) of Miao ethnic  group
A province with 25 ethnic minorities, the most among all the province in China, in addition to the majority - Han ethnic group, Yunnan boasts diverse religions and cultures, like stars dotted in the sky, peaceful and profound.
Each ethnic group here celebrates numerous festivals, as many as the stones in the river, ranging from the "Munao Zongge" collective dancing and singing of the Jingpos, the "long street feast" prepared and shared among the Hanis, to the "common-heart wine" brewed and served at a Lisu's home, through which local ethnic people express their preference for equality and harmony. If you come to Yunnan for any of the festivals, you will enjoy it to your heart's content.
The ethnic people of Yunnan respect the nature, and revere gods with whom they dance and sing at their festivals. They offer sacrifice to the gods, ancestors, water and tree deities, and ghosts, to name but just a few. They also choose a pure and innocent life with peaceful minds.
Every festival here in Yunnan is celebrated among local ethnic people with tasteful feast, gorgeous ethnic costumes, distinctive musical instruments, melodious songs, and unrestrained laughter…
Welcome to Yunnan, the paradise, for the festivals.