More than just spectacular scenery, Jiuzhai Valley National Park is home to nine Tibetan villages, over 220 bird species as well as a number of endangered plant and animal species, including the giant panda, Sichuan golden monkey, the Sichuan takin and numerous orchids and rhododendrons.
Jiuzhai Valley is locally known as Jiuzhaigou (Chinese for "Nine Village Valley"). It is a national park located in the Min Shan mountain range, Northern Sichuan in South Western China. It is best known for its fabled blue and green lakes, spectacular waterfalls, narrow conic karst land forms and its unique wildlife. It was declared a UNESCO World Heritage Site in 1992; the park joined the Man and Biosphere Conservation Network in 1997 and has also received IUCN, Green Globe and ISO 14,001 accreditations.
It is China's premier national park and is located at elevations ranging between 1,990m (6,529 feet) to 4,764m (15,630 feet) above sea level. Located on the edge of the Tibetan Himalayan Plateau in Northern Sichuan Province it is easily accessible from Chengdu International Airport. Jiuzhai Valley provides spectacular scenery throughout the year making it one of China's most treasured scenic sites.
Just inside Sichuan's northern border lies Jiuzhaigou Nature Reserve, a national park and UN World Biosphere Reserve. To get things out of the way right away: you will hear grumping about the heart-locking ticket cost and tutting of the 'too-many-tourists' syndrome. True enough, but say, 'Pish!' and go anyway – it's a national treasure and you'll never forget a visit to this place.
Jiuzhaigou, meaning 'Nine Village Gully' refers to the nine Tibetan villages that can be found in the valley. The area is lightly sprinkled with Bön prayer flags, chörten and prayer wheels that spin anticlockwise, powered by the current of the rivers. According to legend, Jiuzhaigou was created when a jealous devil caused the goddess Wunosemo to drop her magic mirror, a present from her lover the warlord God Dage. The mirror dropped to the ground and shattered into 118 shimmering turquoise lakes.
Those pools of eye candy are what lie within your dreams after you leave, along with the snow-crusted mountain peaks, and forests and meadows, home to protected takins, golden monkeys and pandas.
The park is pristine, but resort-style hotels leading up to the park entrance have 20, 000 beds; over 1.5 million people per year come here. (And both of these were true before the airport opened.) The original residents have been forced to move in order to 'protect' the park (those here actually work within the park's confines to keep up appearances). And as you're technically not allowed to strike off into the backcountry, it can be a bit disheartening as the efficient shuttle buses whiz by with an alarming regularity.
All true. Then again, considering all this, it's still a remarkable gem, and worth a splurge of yuan and time.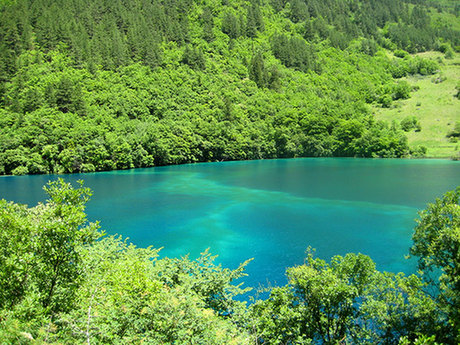 Lying Dragon Lake