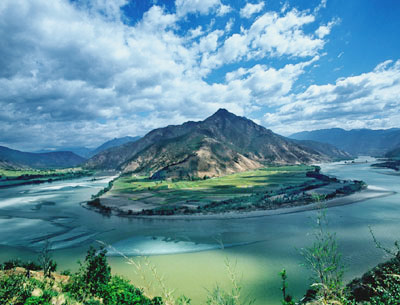 Visitors to the Deqen Tibetan Autonomous Prefecture will surely find themselves in a land where mysterious tranquillity is harmoniously blended with the ever-changing scenery.
Three snow-capped mountains - Meili, Baimang and Haba - tower magnificently over the landscape, crisscrossed by the Jinsha (Golden Sand) and Lancang (Mekong) rivers which are flanked by overhanging cliffs. Snowy peaks form a huge backdrop whose beauty is a feast to behold. Mirror-like plateau lakes, scattered over the vast expanse of grassland, look like numerous agates inlaid in a huge emerald carpet, their idyllic quietness exuding majestic quality.
Cattle graze leisurely in the meadows, where exotic flowers and luxuriant grass wave against the gentle breeze, and in the depth of the virgin forests is a world of rare birds and animals.
Mother Nature has endowed Deqen with immeasurable wealth, making the land a happy home for the 100,000 Tibetans, Lisus, Naxis and Yis. Brave and industrious, these Deqen people work and live as one family.
Three counties, Zhongdian, Deqin, and Weixi are under the jurisdiction of the Deqen Tibetan Autonomous Prefecture, located in a delta where northwest Yunnan borders on Sichuan and Tibet.
The prefecture is in the center of a famous scenic area where three mighty rivers converge. Against the majestic backdrop of a blue smudge of snowy mountains, rivers winds their way through meadows, forests extends as wide as an ocean. and there is an abundance of flora and fauna. Poets always liken the prefecture to a paradise under heaven.
The mysterious and bewitching Zhongdian County, where the prefecture is headquartered, is the setting for the Shangri-la, a hidden paradise in James Hiltons 1933 novel Lost Horizon. A highway links Zhongdian to Kunming over a distance of 700 kilometres, and by 1999 an airline will have been commissioned between the two places.