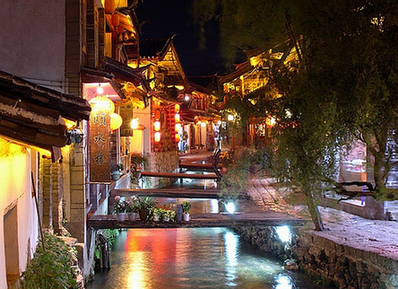 The area of Lijiang is one of the most attractive parts of Yunnan province. The attraction includes a breath-taking countryside to the east of the town, the picturesque old town of Lijiang itself, the region's Naxi population with its unique customs, as well as a large number of Tibetan Buddhist monasteries dotting the mountains east of Lijiang.
The old town of Lijiang is a labyrinth of narrow streets and canals, interwoven with markets, shops and tea houses. Taken all together, it makes for a splendid atmosphere. The most impressing, it's probably in the early morning when the mist clears in the town comes alive.
Attractions in Lijiang:
Jade Dragon Snow Mountain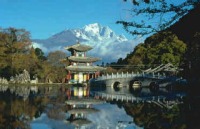 To the north of Lijiang rise some impressive peaks of the Himalayan mountain range. The highest among them is Mount Satseto, referred to by the locals as Jade Dragon Snow Mountain. Its peak had been conquered for the first time in 1963 by Chinese mountaineers.
Tiger Leaping Gorge of the Yangzi River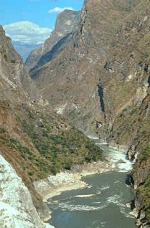 To the north of Lijiang, the Tiger Leaping Gorge of the Yangzi River is a popular destination for local and foreign tourist alike. The Yangzi River at this point passes through a 16 kilometer long valley, one of the deepest gorges anywhere in the world. The distance from the Yangzi water level to the mountain tops rises up to 3900 meters.
There are excursions to the whole length of the Valley which usually take two or three days.
Monasteries
Monasteries around Lijiang, among them Puji Monastery, Yafeng Monastery, Fugao Monastery, and Wenbe Monastery, belong to Tibetan Buddhist sects. The above-named monasteries, and countless others in the region, have all been damage during the Cultural Revolution. The most interesting sights at the monasteries are old frescoes. There has been a period in 15th and 16th centuries when frescoes had been painted at many of the monasteries by Tibetan and Naxi artists.