Destination:Kunming, Jianshui, Yuanyang, Dali, Lijiang, Tiger-Leaping Gorge, Zhongdian.

Duration: 11 Days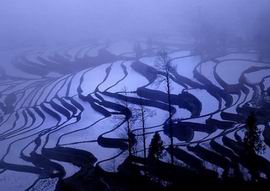 Archaeological findings from the region suggest that Yunnan is one of the original birthplaces of the ancient Chinese civilization, and can even be considered one of the oldest birthplaces for mankind itself in Asia and the world. The Yuanyang terraced fields, for example, have an extremely long history that scholars believe dates back more than 1,300 years. The Yuanyang terraced fields, gracing the slopes of mountain after mountain, are truly awe-inspiring to behold. Thousands of tiered stages, which collectively form the terraced fields, stretch from the various villages situated at the tops of the mountains down to the depths of the dark valleys. Through their wonderful patterns, embraced by flowing clouds and mysterious fog, the terraced fields magically integrate mountains, villages, water, and sky into a fluid mural of natural and primordial beauty.

Yunnan ranks first in China in terms of the variety of its ethnic groups, with 26 nationalities living in compact communities throughout the region. Among the ethnic groups, the colorful customs of the Yi people at the Stone Forest, Hani people in Yuanyang, Bai people in Dali, Naxi people in Lijiang and Tibetans in Zhongdin are particularly notable. They have each produced rich and unique cultures that are perfectly and harmoniously fused with the wonderful natural landscapes of Yunnan. Together they compose an image of 'Everlasting Shangri-La' that attracts numerous tourists from all over the world.