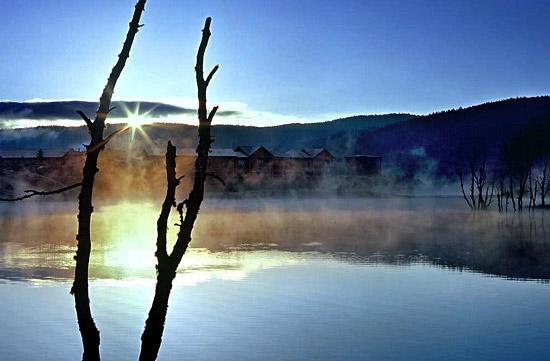 Tourism is often among the first sectors to feel the impact of an economic crisis as consumers keep a firm grip on their cash and wait for the storm to clear.
Yet Diqing Tibetan autonomous prefecture in Yunnan, famed as the home of Shangri-La, hosted more than 2 million tourists that spent of 1.6 billion yuan in the first six months of 2009, an increase of 30 percent in visitor numbers and 20.17 percent in revenues compared to the same period last year.
Chen Jianguo, head of the Diqing prefecture government, shared the reason for success with China Daily while on the sidelines of the ongoing Summer Davos forum in Dalian.
"A precise and clear work plan was formulated," Chen said, which included burnishing the Shangri-La brand, developing three modes of tourism - sightseeing, leisure and vacations - and improving five major scenic spots.
The campaigned focused on Shangri-La Pudacuo National Park, Meili Snow Mountain, the national park for black snub-nosed monkeys, Tiger Leaping Gorge and Balagezong Gorge.
The local government played a leading role in the effort by raising money, introducing strategic partners and improving the level of tourism services.
Improvements in infrastructure including highways, airports, hydropower stations, hotels and the telephone system were part of the effort.
The government also worked with tourism enterprises to boost air travel to the area including promotions in Hong Kong and Hainan.
Since Diqing largely depends on tourism, its overall economic and social development is closely tied to ecological protection. Local efforts include returning farmland to forest and grassland.
But that doesn't mean Diqing shuns all industries. "What we need are green, hi-tech and environmentally friendly projects," Chen said.
The efforts have resulted in maintaining and enhancing the legend of Shangri-la, with its towering snow-capped mountains, lush forests, vast gorges, idyllic lakes and compelling Tibetan culture.