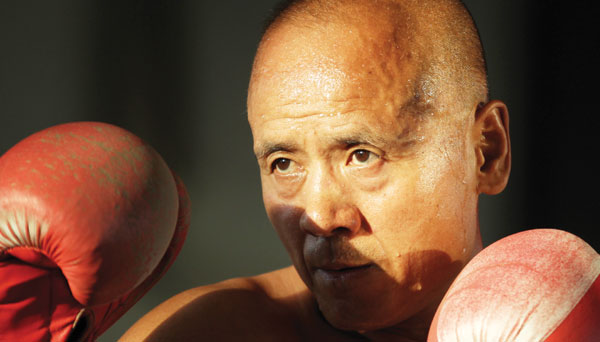 [Photo by Bai Shi/China Daily]
Confucius said: "At 50, I know the will of heaven; at 60, my ears are attuned; at 70, I follow my heart's desire without crossing the line."
Chen Ming, 60, ignores the rules set by the great philosopher. Family members and friends have tried to persuade him to enjoy life and take it easy, as most people his age do. But Chen ignores their advice, because he is a professional boxer.
He began learning martial arts at the age of 10. Later, a well-known boxer, Gao Guangda, taught Chen how to fight in the ring. He fought many professional bouts, and today Chen stays in shape by exercising four hours a day.
He coaches at a fight club in Changchun, Jilin province. As he passes on his skills to others, he is also training himself, because he still fights professionally.
"Age is no hurdle for me," he says, adding that one well-known boxer fought until he was 71.
"I can fight for another five years, my body permitting."
Chen has stepped up his training recently because next year he plans to participate in Wushu Masters, a televised martial-arts competition produced by CCTV.