Untying the knots of history
Updated: 2011-10-11 09:58
By Zhao Ying (China Daily)
| | | | | | | | | | | |
| --- | --- | --- | --- | --- | --- | --- | --- | --- | --- | --- |
|   | | Comments() | | Print | | Mail | | Large Medium  Small | 分享按钮 | 0 |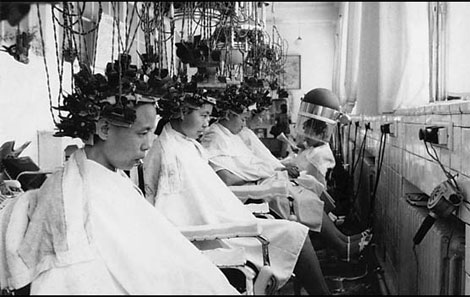 Women get perms at Silian, Beijing's most popular hair salon, after hairdressing services were partially restored in the late 1970s. Provided to China Daily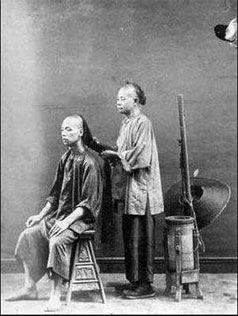 A man at the barber's during the late Qing Dynasty.
Yan Xiuzhen has her hair trimmed and curled almost every month at a hair salon in Beijing, an action that would have attracted censure during the "cultural revolution" (1966-1976).
"A short, layered haircut looks elegant, and suits my job," says the 56-year-old chairwoman of the China Hairdressing and Beauty Association (CHBA).
"Chinese people now enjoy complete freedom in choosing how they look, but in the past, a hairstyle that was considered improper by the authorities could lead to beheading," she says.
A Confucian doctrine prohibited ethnic Han men and women from cutting their hair. They were expected to coil it on top of their heads, says Zhang Youwang, a senior consultant from the Beijing Hairdressing and Beauty Association.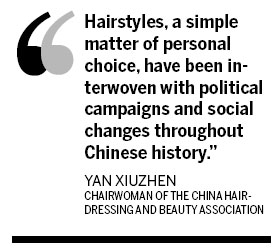 Ethnic Manchu men, on the other hand, partially shaved their heads, leaving a length of hair at the back that was fashioned into a long braid, also known as a pigtail or queue.
When the Manchu-dominated Qing Dynasty (1644-1911) came to power in 1644, the first Manchu emperor Shunzhi ordered all Han men to shave their heads and adopt the queue as a sign of submission.
Historical records show that the Qing government would station barbers and executioners along the sides of city streets. Those who refused to shave their heads were beheaded on the spot, Zhang says.
This strict head-shaving policy sparked widespread resistance from the Han, with fierce clashes breaking out in many areas of China at the time. Sporadic anti-Qing campaigns encouraged Han people to grow their hair in defiance of the government.
However, the queue began to disappear only in the late 19th century, when it became associated with the failures of the Qing government. Long plaits were seen as a sign of corruption and a symbol of a government that found itself behind the times, Zhang says.
But it was not until the 1911 Revolution that people were allowed to completely abandon the braids and adopt shorter hairstyles. The uprising, led by Sun Yat-sen, overthrew the Qing Dynasty. The queue became a thing of the past.
Another milestone in the history of Chinese hairstyles occurred during the 10-year "cultural revolution" (1966-1976). Perms, high heels, cosmetics and jewelry - anything that would make women look prettier - were banned as symbols of a bourgeois lifestyle.
"All of the tools and equipment that we used to give women perms were confiscated or destroyed. The entire hairdressing industry stagnated for a decade," Zhang recalls.
Around 1978, the year that China began its policy of reform and opening-up, Beijing's most popular hair salon, Silian, began offering perms again with the approval of the central government. However, people still needed the permission of their work units to get perms, according to Wu Xiumin, general manager of Silian.
The shop's brand-new, cutting-edge perm machines attracted crowds of clients, as well as numerous foreign reporters. The news that China had started to allow its citizens to curl their hair quickly spread throughout the world, Wu says.
A man at the barber's during the late Qing Dynasty.
However, it was not until 1980 that the country's barbershops and salons were allowed to restore their full services, finally giving Chinese people complete freedom in their choice of hairstyle, Wu says.
"Hairstyles, a simple matter of personal choice, have been interwoven with political campaigns and social changes throughout Chinese history," CHBA's Yan says.
China's hairdressing industry has witnessed rapid growth over the past three decades, and now offers a variety of services and trendy styles to customers, she says.
The nation had more than 1.2 million hair and beauty salons as of the end of 2010. These salons employed approximately 7 million people and generated 380 billion yuan (nearly $60 billion) in turnover in 2010, Yan says, citing a survey jointly conducted by the Ministry of Commerce and the CHBA.
Chinese hairdressers study the styles and techniques used by hairdressers in other countries, particularly Japan and Britain, to offer their clients more choice, Yan says.
Silian now has about 160 hairdressers, who are capable of making dozens of hairstyles. Wu says, "the salon receives over 1,000 customers every day and makes at least 27 million yuan a year".
Song Chao, a 24-year-old auto salesman in Beijing, recently paid 120 yuan to have his short hair dyed light brown at a well-equipped beauty salon.
"I don't want my haircut to be too trendy, but adding some color to it is fine. Hairstyles represent one's personal tastes, and a proper choice can make a good impression," he says.
An 83-year-old woman, who wants to be known only as Li, says she pays about 200 yuan every three months to curl her thinning gray hair in Silian, a habit of nearly 30 years. As a retired teacher, Li's monthly pension is about 3,000 yuan. "I like the professional service here. I never go to substandard salons."