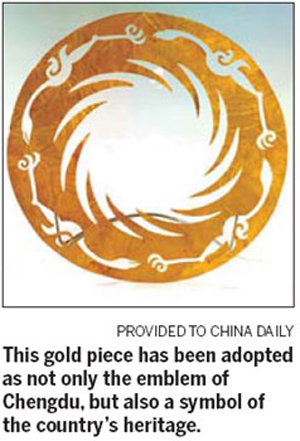 EDITOR's Note: Every week we look at a work of art or a cultural relic that puts the spotlight on China's heritage.
Sharp-eyed visitors to Chengdu, capital of Sichuan province, may have noticed a circular golden emblem, featuring four flying birds surrounding the sun, in many parts of the city.
Now widely considered "a name card" for the century-old city, it can be seen on the overpass en route to Shuangliu International Airport, on banner advertisements promoting the city's image, and on local television channels.
The State Administration of Cultural Heritage also adopted it as the country's symbol of cultural heritage in 2005.
Explaining its choice, officials from the administration cite "Its exquisite craftsmanship and representation of ancient Chinese people's worship of the sun as well as the Chinese nation's enterprising spirit".
The sunbirds are believed to be about 3,000 years old and were discovered in the Jinsha ruins, west Chengdu.
The ruins, covering an area of 4 square kilometers, include sacrificial sites, houses of the nobility and commoners, and a graveyard.
Archaeologists have hailed the ruins as Sichuan's most important find after the discovery of the Sanxingdui site in 1929.
The Jinsha ruins were discovered by accident.
On Feb 8, 2001, workers at a construction site in Jinsha village, found ivory and jade in the piles of debris.
Archaeologists were called in and since then have excavated more than 5,000 precious relics, including gold, jade, bronze and stone wares, as well as a ton of elephant tusks and tens of thousands of pottery and ceramic pieces.
One of the finds was the sun-like gold piece, measuring 12.5 cm in diameter and weighing 20 grams, but a mere 0.02 cm in thick.
It has four vivid phoenixes cut out of it and 12 long "teeth" radiating from its center.
Experts say the image of birds around the sun suggests that the ancient state of Shu, part of present-day Sichuan, practiced some form of totem worship.
"Sun worship dominated the daily life of ancient Shu people," Jinsha ruins museum curator Wang Yi says.
The gold piece is seen as an illustration of an ancient Chinese myth, recorded in the classic Legends of Mountains and Seas, written some 2,500 years ago.
According to the book, the ancients believed the sun was carried up to the sky in the morning and pulled down at dusk by four giant birds.