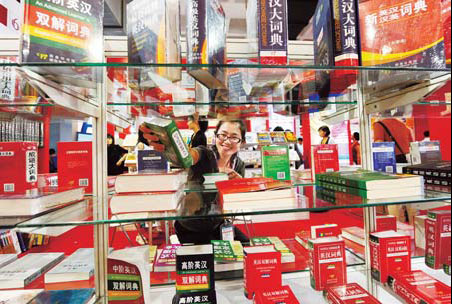 A reader at a Beijing book fair in 2009. Revenues from the country's digital publishing exceeded that from traditional publishing in 2009. Yuan Zhou / Asia News Photo
More than 150 publishers, distributors, and other players of the digital publishing industry from more than 10 countries convened in Beijing on Tuesday for Digital Publishing Asia Pacific 2010, to share their insights into the trends and hot topics in digital publishing.
According to Huang Guorong, deputy general secretary of Publishers' Association of China, revenues from digital publishing stood at 79.94 billion yuan ($12 billion) by the end of 2009, exceeding that from traditional publishing for the first time.
Display Search, a global market research and consulting firm, forecasts China will overtake the United States as the world's largest e-reader market before 2015, by virtue of the country's large population.
"But as the content provider, Chinese publishers are not taking the lead owing to disputes over copyrights and profit-sharing with IT and technology companies," Huang says.
Nie Zhenning, president of China Publishing Group, says digital publishing has changed the workflow of traditional publishing, and urged greater collaboration between publisher and technology provider.
Margaret Seale, managing director of Random House Australia, says, "Random House would like to leverage its expertise in China, one of the most important growth markets for book publishing."
Through cooperation with Chinese partners, the world's trade book leader has introduced many Chinese titles to other countries, including China Reader by Su Shuyang, Riverside Talks by Zhao Qizheng and Luis Palau, The Man Who Changed China by Robert Lawrence Kuhn, and a travel guide for visitors to the 2008 Beijing Olympics.
Many best-sellers in China have originated in Random House companies globally, such as Spencer Johnson's Who Moved My Cheese, Richard Branson's Losing My Virginity, and the newly launched Why Manners Matter by Lucinda Holdforth.
"Discussions are on for opportunities for future cooperation, which include licensing content, distribution, and perhaps some time in the future, publishing," Seale says.