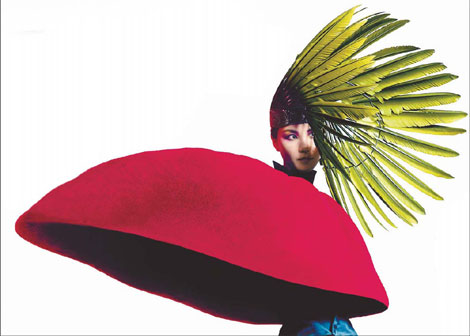 The diva will return to the stage after six years for major concerts in Beijing and Shanghai. Chen Nan reports
Faye Wong knows how to keep a crowd waiting - and get away with it. She did that again on a rainy afternoon at a Beijing hotel recently. Hundreds of journalists who had waited for the pop diva for hours, could do no more than sigh when she appeared and left after saying just a few words.
But no one is complaining. After all, this is a singer who can sell millions without a single promotion - be it albums, movies or concerts. Twenty years after her debut album, she retains her special magic.
The diva will return to the stage with five concerts in Beijing and Shanghai this October and November, after being away from the spotlight for six years.
When the organizers of the media event announced, "Our diva is back and this time it is for real," shouts of "I love you, Faye Wong" resonated around the room.
Wong, wearing a red-and-black dress, a pair of transparent flip-flops and her hair in a bun, walked up gracefully to the waiting reporters and said simply: "Long time no see".
When the organizers then proceeded to announce that concert tickets worth nearly 200 million yuan had been snapped up in 10 days, Wong smiled and thanked her fans.
Reporters who wanted to hear more from her got a giggle and a "What should I say?" in reply.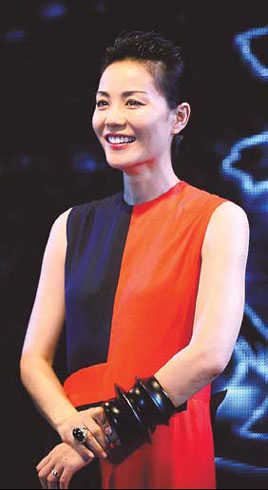 Faye Wong will return to the stage with five concerts in Beijing and Shanghai this October and November, after being away from the spotlight for six years. Wang Jing / China Daily
This pop diva certainly practices economy of words, but when she speaks, her fans hang on to every word. Unless, of course, they are statements like, "When I stop singing, please forget me", uttered in 2004 when she announced her "retirement". Those words are easily forgotten and forgiven by fervent fans who want her back in the limelight.
Since then, Faye has kept a mysteriously low profile bar the few photos taken by paparazzi of her shopping and dining in the capital where she lives.
Her songs have stayed on top of the karaoke charts and fans continued to be hungry for news, of her singing and her fashion style.
Wong, 40, has not performed publicly since 2005 except for two events - a fund-raiser for Sichuan earthquake victims in 2008 and a dinner last year for the Smile Angel Foundation, a charity she and husband actor Li Yapeng founded four years ago to provide poor children with cleft lips with free surgery.
She has turned down acting and singing opportunities to care for her family, especially her second daughter, Li Yan, 3, who was born with a severe cleft lip.
But rumors about her comeback never ceased. Her every move was noted whether it was an appearance in a hair-product advertisement or when she sang the theme for the movie, Confucius.
Earlier this year, she dazzled at the CCTV Spring Festival Gala singing the song Chuanqi or Legend, and Wong was once again in the spotlight. "Her popularity is as much about her singing as her personal charisma The song is not new but she made it popular," says Li Jian, who wrote Chuanqi.
A Beijing native, her rise to stardom began as a model in Hong Kong, but it was the release of her debut Cantonese album in 1989 that propelled her into the limelight.
Her clear voice and personality set her apart from other Hong Kong singers and she has been compared to Bjork and the sound of The Cranberries. Her version of The Cranberries' Dreams, featured in director Wong Kar-Wai's Chungking Express, in which she played a leading role, became hugely popular.
But it was her ex-husband, Dou Wei, the lead vocalist of mainland rock band Black Panther, who helped forge her unique singing style.
One of her biggest hits - Pledge - was co-wirtten and composed by Dou. Subsequent albums, all produced and largely written by Dou, sold millions of copies, catapulting Wong to the cover of TIME magazine in 1996, the first Chinese singer to be so featured.
In 1998, Wong released her album, Scenic Tour, which swept the music charts across Hong Kong, Taiwan and the mainland. Songs such as Red Bean, Face and Emotional Life, are still popular today.
As expected, the singer's personal life came under intense media scrutiny. Her pregnancy, the birth of her daughter and her subsequent divorce from Dou in 1999 were all covered extensively by the paparazzi.
Once, when asked what troubled her the most, she simply said: "I am too hot" referring to the price she pays for fame.
Her divorce did little to derail her. In fact, the success of two more albums co-produced with Zhang Yadong only reinforced her position as Asia's top pop diva.
To Love, her 2003 album, won her Best Female Singer awards in Hong Kong, Taiwan and the mainland.
"Although she started her career in Hong Kong, she has kept her charming Beijing style," says Zhang, who has worked with Wong since 1995. "She does not abuse her superstar position. Whether the song is a quiet one or a rock style, she gives it her own touch. No one can replace her."
Her enigmatic personality also sets her apart and she has been variously described as being childlike and womanly, innocent and mysterious.
Husband, Li Yapeng, once said in an interview that, "she is just a mother and wife at home. She reads stories to our daughter and puts her to bed".
The singer is reluctant to reveal much of her inner self and fans can only guess through the lyrics of her songs.
Speculation on the reasons for her comeback is rife. Some say she misses the stage while others put it down to pressure from her agent. Will she take another long break after the concert tour? Time will tell.