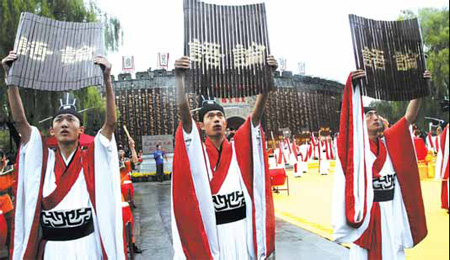 A ritual combining song and dance is the regular performance at the event.

Opening ceremony of the 2008 China (Qufu) International Confucius Cultural Festival.
Confucius, whose actual name was Kong Qiu and courtesy name was Zhongni, lived between 551 and 479 BC during the late years of China's Spring and Autumn Period (770-476 BC).
He was born in the city of Qufu, which was located in the ancient Chinese state of Lu. A great thinker, educator and statesman as well as one of the most learned people of his time, Confucius was also the founder of a school of moral doctrine that encourages "justice" and "peace," known today as Confucianism.
Confucianism has a decisive influence on the traditional Chinese culture. Later generations honored Confucius as "the sage of sages" and "the teacher of all ages."
Confucianism is not only the core of traditional Chinese culture, but has also deeply influenced the world's cultural history, and many intellectuals and philosophers from around world have studied it.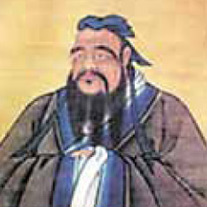 Confucius
Since the 17th century, countries and regions around China, such as Japan, Korea, Vietnam, successively built Confucius Temples to worship the great sage. Since the 18th century, with the immigration of Chinese people to countries in Europe, the Americas, as well as Asia, started to build Confucius Temples. There used to be 3,000 such temples around the world, with 1,300 still well preserved. Many of the temples, especially those in the Southeast Asia regions, continue to hold ceremonies to worship Confucius on his birthday.
Confucian tenets have now become the important sign of the East Asian culture and the significant heritage of the whole world.
At present, more than 200 Confucius Colleges have been established in more than 50 countries and regions in the world.
For more than 20 centuries, memorial ceremonies have been held in the Qufu's Confucius Temple. The grand ceremony was known as "The Ceremony of the State" in ancient times. Today, it is the most influential ceremony during the International Confucius Culture Festivals.
During this year's festival, a special highlight will be given to the descendents of Confucius, a group of people surnamed Kong, because of the release of a new edition of the Confucius Genealogy.
According to Guinness Book of World Records, the Confucius Genealogy is regarded as the world's longest family tree, recording more than 70 branches and two million names of the sage's descendents. The Confucius' family tree boasts 83 generations.