Evert says Li a lock for Hall of Fame
Former tennis great Chris Evert said Li Na is destined for more Grand Slams and a place in the Hall of Fame after the Australian Open win cemented her position as the most influential female player of the past decade.
Li's final victory over Slovak Dominika Cibulkova on Saturday gave her a second major following her 2011 French Open title, a triumph that made her Asia's first singles Grand Slam champion.
Evert, the winner of 18 Grand Slam titles, joined WTA Tour chief Stacey Allaster in hailing the Chinese's achievements at a timely promotional event for the end of year championships in Singapore.
"Yeah, I'd vote for her," Evert said when asked if Li was worthy of a place alongside her in the Hall of Fame. "It's not only about winning Grand Slams, it is about the influence that you have in tennis.
"Look at her, as Stacey said, she is the most influential women's tennis player in the last 10 years with what she has done for global tennis, so absolutely 100 percent.
"Something would be wrong if she didn't get into the Tennis Hall of Fame."
Evert also predicted the Chinese could add a third or fourth Grand Slam before the year is out.
"This year she is still up for Grand Slams, along with Serena (Williams), Maria (Sharapova), Victoria (Azarenka).
"She is right up there with them too. There was always a little gap before you said Li Na's name but now I think she is right up there with all of them after the type of tennis she played at the Australian Open."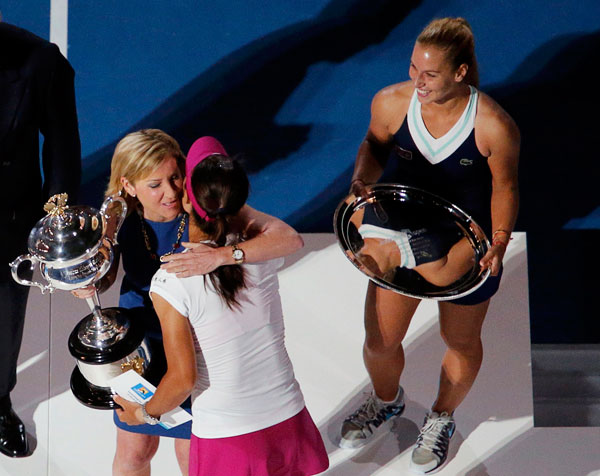 Tennis great Chris Evert hugs Li Na while presenting her with the championship trophy after she beat Dominika Cibulkova (right) in the final of the Australian Open. David Gray / Reuters