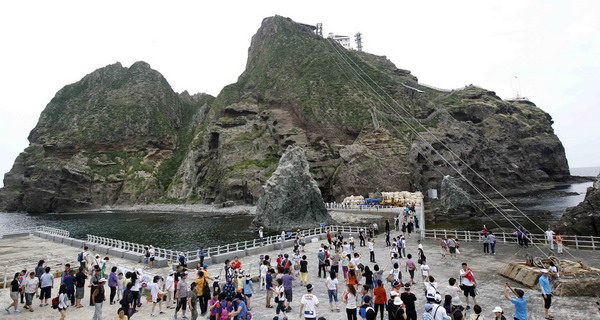 South Korean tourists visit Dokdo island, also known as Takeshima in Japanese, east of Seoul August 1, 2011. South Korea on Monday denied the entry of three Japanese lawmakers, who planned to visit South Korea's Ulleung Island located about 87 km (54 miles) from the remote volcanic islets, to protest against South Korea's claim on the islands. [Photo/Agencies] 
SEOUL - The South Korean government on Tuesday railed against Japan's latest claim to a set of disputed islets claimed by both countries.
Japan endorsed its 2011 defense white paper, in which it called the islets, known as Dokdo here and Takeshima in Japan, as its territory."We strongly protest the move and demand the Japanese government immediately retract it," the defense ministry in Seoul said in a statement, calling Tokyo's latest territorial claim "very regrettable."
"We urge the Japanese government to come to a realization that we cannot expect forward-looking military ties unless Japan drops its territorial claim," the statement said, adding the islets belong to South Korea "historically, geographically and by international law."
The defense ministry also summoned Hiroshi Kimura, a military attache at the Japanese Embassy here, to protest the move.
The set of rocky outcroppings lying halfway between the two countries has been a source of recurring diplomatic row, as Japan repeatedly lays claim to the South Korean-controlled East Sea islets.
Three conservative Japanese lawmakers visited South Korea Monday in a trip seen here as an attempt to boost their claim to the disputed islands. South Korea banned their entry and sent them back to Japan on the same day.