Homage to Peking Opera
Updated: 2019-11-29 07:53
By Mathew Scott(HK Edition)
| | | | | | | | | |
| --- | --- | --- | --- | --- | --- | --- | --- | --- |
|   | | Print | | Mail | | Large Medium  Small | 分享按钮 | 0 |
Jacob Cheung's latest film, The Opera House, looks back on the glory days of Peking Opera in the early 1900s. Mathew Scott met the director and lead actor Mason Lee at Pingyao Film Festival.
Director Jacob Cheung's latest venture, The Opera House, is part film and part social mission in its attempts to connect audiences with times long gone.
"Chinese filmmakers should keep these types of stories alive," explains Cheung. "I think it is up to us to introduce a younger audience to a sense of nostalgia."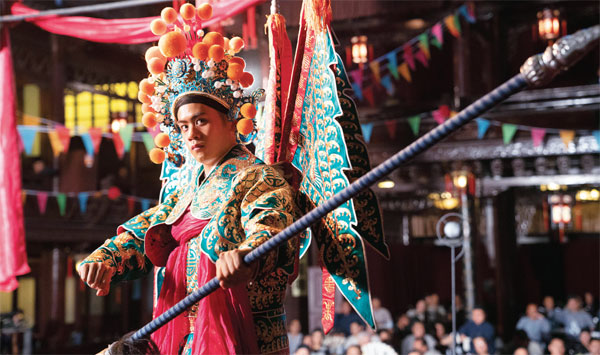 Mason Lee trained with Peking opera masters in Beijing to prepare for his role in Jacob Cheung's The Opera House.
The Opera House certainly echoes the past, in terms of both subject matter and cinematic style. It stars Mason Lee - son of Oscar-winning film director Ang Lee - as a young lad torn between his father's desire that he become a martial artist and his own passion for Chinese opera.
The film is set in the backstreets of early 1900s Beijing during the post-Boxer Rebellion era when China's martial artists had been defeated by a coalition of international forces and their craft banished to society's sidelines. At the same time, opera stars were treated like deities.
The Opera House also feels - visually and in terms of tone - very much like the 1960s-1970s-era Shaw Brothers films made by the director Li Han-hsiang, a man whose very best efforts (The Love Eterne and The Empress Dowager) came seeped with reflections on times and characters past.
"When I grew up in Hong Kong (in the 1960s and 1970s) I never had the chance to see China," explains Cheung. "It was only through films that I could see Beijing and see how the culture of Beijing was. Only Li was making these kinds of films, but there were so many details in his films about everyday life."
The Opera House is a departure from the kind of films that brought Cheung acclaim, such as the multi-award winning actioner A Battle of Wits (2006). But he'd previously touched on history in 1988's Lai Shi, China's Last Eunuch and on social issues in Cageman (1992). Cheung says that with The Opera House he wanted to present a story set in a different period, with characters - and issues - that might be considered timeless.
Cheung revealed he had heard a tale about a martial arts master who was involved in the Boxer Rebellion of 1900 and had fought against the foreign forces. As he was trying to escape his ponytail got caught in a beam and he was shot. "I thought this was a metaphor for change and how people can be trapped by the past and need to adapt," says Cheung. "These sorts of issues are important to every generation."
Cultural inheritance
The Opera House had its world premiere at the third Pingyao Crouching Tiger Hidden Dragon International Film Festival, held in October in northern China's Shanxi Province. There was a sense of nostalgia running through the program, which was by design, according to festival co-founder Jia Zhangke.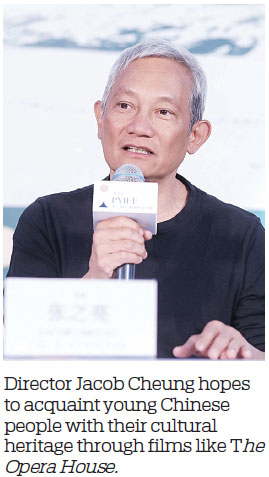 "The festival wants to introduce contemporary Chinese arthouse films to the Chinese audience along with arthouse films from around the world, but we feel it's very important that young audiences today get a sense of China's history and its cinematic history," explains Jia, arguably the country's most successful arthouse filmmaker, thanks to the likes of his success with the Venice Golden Lion-winner Still Life (2006).
Other films on the Pingyao program that explored the past of both cinema and the country included a restored version of Zhang Yimou's breakthrough hit Red Sorghum (1988) and a very modern take on a classic Cantonese opera in the Zhang Xianfeng-directed White Snake - both using 4k film resolution.
Based on the ancient Chinese folktale of a snake spirit that falls in love with a man, White Snake comes with spectacular visual flourishes now possible, thanks to the remastered version in high-definition. Also, like Cheung's The Opera House, it leans on other very modern filmmaking techniques such as computer-generated imagery as a means of connecting with contemporary audiences, even if the tale is from long ago.
"There are quite a few filmmakers doing this kind of thing," explains Jia. "The basic idea is to use modern techniques to allow the audience to connect with the past."
Cheung and Lee addressed the press before their film's premiere. The 29-year-old actor admitted to knowing next to nothing about the history of Chinese opera before he heard about the film. Subsequently he became so enthralled with the genre that he spent 10 months studying its crafts - and that was even before Cheung had secured the budget necessary to make the film.
"Peking opera is very far away from what I am used to, so director Cheung took a risk," says Lee. "I learnt from masters in Taipei and Beijing and that brought me closer to the character and I developed a passion for these skills.
"I was brought up in the US, so I lack the exposure to these traditions. But being exposed to these traditions has made my mental world more complete. These days, traditional cultures and arts are not really popular, but I fell in love with Peking opera."
The Opera House is set for a rollout in cinemas in 2020 and Cheung is hoping the inspiration he found from history will resonate with audiences.
"When I started to make this film I returned to Li's films, and to old documentaries and pictures," he says. "So it's a reminder of the old days. What I wanted to do was to take a new audience on a nostalgia trip.
"In order to interest young filmgoers you have to get young films stars and that's where Mason came in. With actors like Mason we can make the story young again and we made the story about young characters. That's how we can connect people with the past," says Cheung.
(HK Edition 11/29/2019 page10)