Partners in design
Updated: 2019-11-29 07:53
By Rebecca Lo(HK Edition)
| | | | | | | | | |
| --- | --- | --- | --- | --- | --- | --- | --- | --- |
|   | | Print | | Mail | | Large Medium  Small | 分享按钮 | 0 |
Three leading designers from the UK tell Rebecca Lo why they love collaborating with their counterparts in HK.
At a time when technology drives the way we live to a large extent, some of today's leading British designers with a Hong Kong connection seem keen to reconnect with a part of their heritage that predates the technological invasion.
For Tom Dixon - the self-taught industrial designer with an eponymous shop on Hollywood Road - the challenge is to reach new markets while staying true to his creative journey. Dixon recently revisited his roots as a bass player in London's 1970s music scene. Understandably, he is not too keen on designs that appeal solely on a visual level.
British artist Morag Myerscough, known for her striking installations such as Temple of Agape in London's Southbank (above), has collaborated with Hong Kong's Ware and Shin Wong.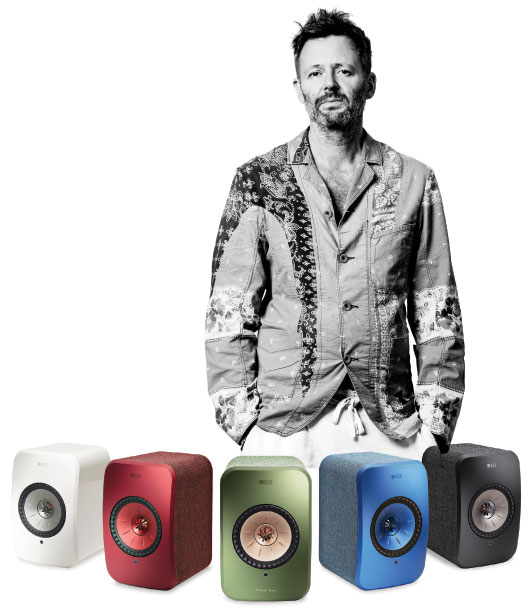 British-born, Hong Kong-based Michael Young designed wireless speakers for British sound equipment brand KEF. The products are manufactured in the Guangdong-Hong Kong-Macao Greater Bay Area.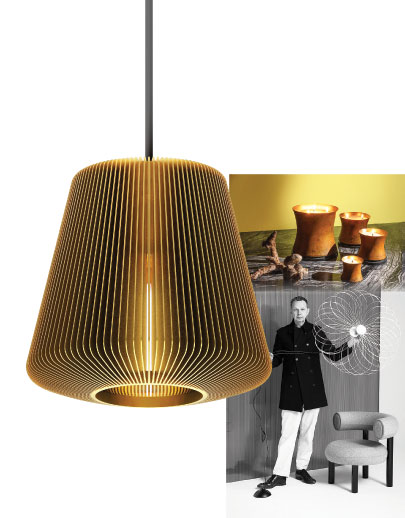 London-based Tom Dixon's eponymous brand of furniture and home decor is a hit with design-conscious Hong Kong people.
"As I was a musician before I became a designer, I am very interested in sound," says Dixon from New York. "Acoustics have always been big in my interiors projects, along with textures and room fragrances. We are not just visual creatures, though we look at things on screens a lot. If we just concentrate on aesthetics, we neglect a huge portion of our abilities and experiences - eventually evolving into creatures with huge eyes and tiny ears if we keep going down our present path of staring at iPhones all day long."
Tunisian-born, London-based Dixon progressed from welding furniture for band and audience members to working with Italian furniture designer Enrico Cappellini on the innovative S chair in the 1980s. In 1998, he joined Habitat as head of design, parting ways a decade later as creative director. In 2002, he set up the Tom Dixon brand of home products while simultaneously branching out into interior design through the Design Research Studio arm of his company.
He has been a frequent visitor to Hong Kong since the last 30 years. "I still get a rush of energy when I land in Hong Kong," he says. "Attitudes have shifted from entertaining in restaurants to hosting people at home. Of course, it is always challenging due to the limited space most people have domestically. But the general public's interest in design has risen."
Dixon says that he sees a big distinction between people engaging anonymously in chat rooms compared to the personal, often serendipitous, interactions that occur during face-to-face meetings. "Encounters do not happen the same way digitally," he argues. "People have a need to gather; it is a way to refresh themselves through interesting observations, networking and surprising encounters. I saw that in the music business, with people who attended concerts. The show was one part of the thrill."
Holistic branding
Born in Sunderland in northern England and based in Hong Kong since 2005, industrial designer Michael Young feels that Hong Kong's connection with the UK has resulted in design collaborations that make his products unique. His recent partnership with British loudspeaker manufacturer KEF is an example of Sino-British collaboration, as KEF is owned by Victor Lo, head of Create Hong Kong and chairman of Business of Design Week's steering committee.
"The world of product design has changed," states Young. "To make an impact, design has to be integrated within a holistic branding strategy. My recent products are intended to be beyond just form and material. They are designed to honor and elevate brand heritage, such as my speakers for KEF, or reinvent brand stories, such as my clay bowls for Tushan Kiln."
A stickler for detail, Young chose Hong Kong as his base due to its proximity to the Greater Bay Area's factories that make the products based on his designs. "I work with incredibly resourceful factories that produce unique things," he says. "They have a sensibility that doesn't exist in Europe. It's a different mindset of creative thinking. This is the best place to work - I can do what I want. It was natural to open a studio here."
Like Dixon, Young believes that face time is sorely lacking in contemporary life. "Events and meetings create unification, spirit and comradery of like-minded people," he insists, noting that events meant to examine and celebrate the value of design in modern life are more important than ever before. "Industrialists, designers and entrepreneurs come together at design events, while manufacturers and influencers come to embrace our industry. It's inspiring."
Striking and playful
London-based artist and designer Morag Myerscough says her work stays fresh and relevant partly due to the collaborative nature of her projects. Known for their strong, colorful, energetic vibe, her installations support community and public interaction. Their boldness - seen in projects such as Southbank's Temple of Agape in 2014 and Battersea Power Station's Power Bridge in 2017 - provokes viewers to react. While not all such responses are complimentary, Myerscough's installations usually leave a lasting impact on the viewer's consciousness.
"I am collaborating now with two brilliant interactive Hong Kong artists, Ware and Shin Wong, on an installation called Make Happy Those Who are Near and Those Who are Far Will Come," says Myerscough. "It has been a great experience. We have not compromised - I have done my thing and they have done theirs. The work has come together to form a very strong structural installation with beautiful, playful content." The piece goes on display in PMQ, in Hong Kong's Central district from December 13.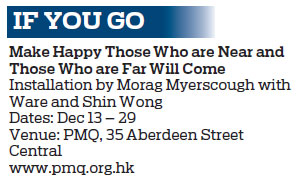 Based on a Chinese proverb, the installation refutes the idea of one-size-fits-all. "It was important to make a piece that is full of positivity, hope and strength, and produces a genuine smile on your face," she explains. "Our structure reflects this in its wild maximalist celebration of joy to the world around, drawing viewers into an intimate pale pink glowing space to house the very delicate responsive interactive installation by Ware."
Myerscough feels that personal encounters through industry-specific events are necessary and vital to her growth as an artist. She says they are "great melting pots of ideas. It is very stimulating to hear different views in an intense period of time. I will likely agree with some views and not with others, and this is so valuable to develop thinking. Design conferences and events are inspiring for anyone to do more of what they do - or to rethink their work and do it even better."
(HK Edition 11/29/2019 page9)