Land resumption-is it the long-term answer?
Updated: 2019-11-29 07:38
(HK Edition)
| | | | | | | | | |
| --- | --- | --- | --- | --- | --- | --- | --- | --- |
|   | | Print | | Mail | | Large Medium  Small | 分享按钮 | 0 |
The HKSAR government is slated to start land resumption to resolve the city's housing woes. Some experts say it will be effective in meeting housing demand, but others argue the long time frame is a big hurdle. Oswald Chan reports.
The HKSAR government has unveiled a large-scale, vigorous land resumption program to tackle the deep-seated intricate issue of land shortages and affordable housing by increasing land supply. Chief Executive Carrie Lam Cheng Yuet-ngor said in her policy address last month the government will take over 700 hectares of private land, with about 400 hectares to be resumed for building mainly public housing and subsidized units in the next five years.
The area targeted is significantly more than the 20 hectares that have been resumed in the past five years.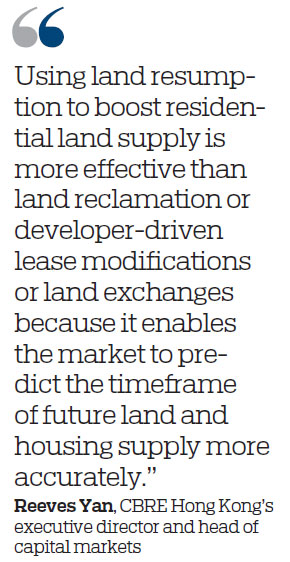 Three types of private land are expected to be taken over by invoking the Lands Resumption Ordinance for developing public and subsidized housing.
The first type covers 450 hectares of privately-owned brownfield sites in the New Territories that may have development potential. Preliminary assessments of 160 hectares that are in the vicinity of existing infrastructure and public housing projects are due to be completed by the end of this year. Assessments of the remaining 290 hectares are expected late next year.
The second type concerns private lands that have been zoned for high-density housing development in statutory outline zoning plans, but without any development plans yet. Ten such sites have been earmarked for public housing development, with preliminary assessments to be released by mid-2020.
The third type of land to be resumed is a 7-hectare urban private plot located in Cha Kwo Ling Village, Ngau Chi Wan Village and Chuk Yuen United Village which is estimated to provide 6,300 public housing units.
"Taking back brownfield sites to develop public housing and starter homes is a social consensus. Our considerations are purely based on whether those land sites are suitable for public housing development. The background of the owner of these brownfields is not our consideration," said Secretary for Development Michael Wong Wai-lun.
Advantages of resumption
Global real-estate advisory firms are mixed over whether the ambitious program can really boost long-term residential land supply.
"I think using land resumption to boost residential land supply is more effective than land reclamation or developer-driven lease modifications or land exchanges because it enables the market to predict the timeframe of future land and housing supply more accurately," CBRE Hong Kong's Executive Director and Head of Capital Markets Reeves Yan told China Daily.
"If the government can successfully resume agricultural land for affordable housing, it would help meet part of the housing demand, as the queuing time for public housing is more than five years at present," said David Ji, director and head of research and consultancy for Greater China at Knight Frank.
The Land Resumption Ordinance empowers the government to resume private land only for an established "public purpose", such as public housing, or the development of new towns, or community facilities like schools, parks, hospitals or welfare service buildings. The SAR government had invoked the ordinance 13 times for public rental housing since Hong Kong's return to the motherland in 1997.
"According to our estimates, more than 600,000 residential units can be built on these agricultural lands," global real-estate advisory firm Cushman & Wakefield told China Daily.
If the government first develops the farmland and builds some infrastructure in the surrounding areas, the brownfield sites nearby would be released accordingly, Cushman & Wakefield said, adding community-scale planning and development could be carried out when the government can assist in building infrastructure facilities in those sites after land resumption.
"The government's plan shows its determination to increase land supply for public and subsidized housing. If subsidized housing supply increases, the number of home seekers in the private housing market will decline," said Jones Lang LaSalle Hong Kong Chairman Joseph Tsang.
"We think this could be the beginning of monetization of the value of farmland, and we believe developers are ready and prepared to sell farmland to the government to build public housing," predicted Jonas Kan Kwok-yu, head of Hong Kong/China property research at Daiwa Capital Markets.
Issue in the long run
However, the development chief Wong said it would be unrealistic to expect all brownfield sites to be earmarked for residential development given the fragmented ownership of these sites, and it's hard to force all logistics services operators to move out of these sites.
Terence Chong Tai-leung, executive director at the Chinese University of Hong Kong's Lau Chor Tak Institute of Global Economics and Finance, told China Daily that enhancing public flat supply alone is not enough.
He reiterated that the government should raise the proportion of public housing in its housing strategy and bolster the turnover of public rental housing units so that more local residents can secure public rental housing faster.
"It's (land resumption) unlikely to boost the residential supply in the coming few years due to the amount of time and money resources needed," Colliers International said.
Marcos Chan, CBRE's head of research for the Greater Bay Area and Hong Kong, agreed. "It'll be a prolonged process before the resumed land is ready for residential development, providing little help to short-and medium-term land supply," he noted.
The government said in September it will take back 784 plots of private farmland, covering 68 hectares, in the northern New Territories for the first phase development of Kwu Tung North New Development Areas and Fanling North New Development Areas, on which 71,800 units will available when the area is fully developed.
As of September, the 129 land sites that had completed rezoning procedures were expected to produce 128,800 public housing units, and the 82 land parcels slated for rezoning are expected to provide 113,400 public housing units, according to Development Bureau.
In addition, the administration will replan the coastal development of Tuen Mun West and Lung Kwu Tan that is expected to provide about 440 hectares of land with the feasibility of developing residential areas. The government will also review more than 300 "government, institution or community" sites that are earmarked for standalone public facilities with a view to developing them under the "single site, multi-use" model.
Contact the writer at
oswald@chinadailyhk.com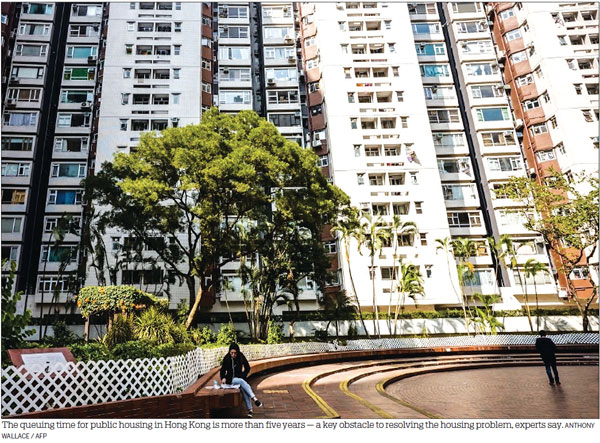 (HK Edition 11/29/2019 page7)