Dialogue is crucial to political reconciliation, district improvements
Updated: 2019-11-28 07:14
(HK Edition)
| | | | | | | | | |
| --- | --- | --- | --- | --- | --- | --- | --- | --- |
|   | | Print | | Mail | | Large Medium  Small | 分享按钮 | 0 |
It is time to get to work. The District Council elections have handed a landslide victory to a large group of new politicians who are young and energetic. They clearly wish to roll up their sleeves and get on with learning the ropes.
Alongside the government's standard briefings for councilors at every new term of office, both the administration and the new councilors may wish to reflect on two action items President Xi Jinping put to Chief Executive Carrie Lam Cheng Yuet-ngor on Nov 4, when they met in Shanghai to discuss Hong Kong and the ongoing protests that were ignited by the now-withdrawn extradition bill.
Unsurprisingly, Xi said the most important task was to curb the violence and stop the chaos in accordance with the law. This was entirely understandable for the head of the national government to say. He then went on to emphasize at the same time that he expected the Hong Kong administration to "do a good job in dialogue with the community and improve people's livelihoods".
Xi's call for dialogue was significant. He expects the authorities in Hong Kong to engage the public because it is through discussion with the community that improvement to their well-being can be achieved. In other words, Lam and her governance team have to up their game when it comes to talking and listening to the people.
Dialogue is essential because the protests have been fueled by a sense that the government was not listening, even when people came out in droves to ask the government to rethink the extradition bill.
Moreover, there has been longstanding disgruntlement even among the thousands of government appointees to advisory and consultative bodies. They believe officials are too conservative and risk-averse in their thinking on many areas of policies. The level of irritation from this group of generally pro-establishment people is quite high.
The protests and the District Council elections provided opportunities for people to show their discontent, the cure for which is genuine dialogue.
Meaningful dialogue is the alternative to violence.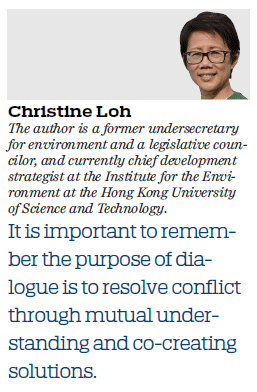 Lam's first "meet the public" session in September was actually reasonably well-received even though people were highly critical at the forum. The question then was what would follow.
The September session served the purpose of allowing people to vent their anger and frustration. The senior officials sought to explain themselves. The result was that the two sides talked passed each other in their own monologues. Even so, it was a positive first step.
A well-designed dialogue would first of all attempt to enable the participants to understand each other much more deeply and withhold judgment of each other. The aim is to find common ground and build a relationship and trust from there.
Dialogue is also not a debate with opposing sides, each seeking to dominate and win the argument based on a single truth. Dialogue assumes there are many perspectives and answers, and aims to enlarge and transform different points of view to deepen mutual understanding.
In a properly convened dialogue, participants would address each other in respectful ways so that they could talk and listen to each other without insults and coming to blows. It is important to remember the purpose of dialogue is to resolve conflict through mutual understanding and co-creating solutions.
The new district councils could be empowered to conduct locally based dialogues with residents to discuss how they could improve where they live. The dialogues could be informed by politically neutral professionals, such as architects, planners, engineers, building managers and so on since so many local issues have to do with the built environment, open spaces, street management and traffic.
The young councilors are going to be much more interested in new ideas. They will likely work with other young professionals who can advise them on turning districts into much more people-friendly places that are environmentally sustainable, "smart", socially inclusive and infused with local flavor. This will be a good thing, and government departments must be ready for this change.
Xi is right - such dialogue will improve people's livelihoods, and if done well and consistently, people will feel less hostile toward the government.
Dialogue can also be applied to electoral reform. Hong Kong people want greater democracy because they believe being able to choose their political leaders will bring about better policies. Yet elections alone are not enough. The process of democracy in the contemporary era comes alive through public engagement, evidence-based policies, good communication and efficient implementation. The young councilors can be the transformers of a more-collaborative political process.
There is also a need for Hong Kong and the mainland to mend relations. There is much shared history and cultural experience between Hong Kong folks and mainlanders - we have much to dialogue about to better understand each other. This could happen through private-sector and community initiatives.
On the political front, there is a need for a carefully planned dialogue where "one country, two systems" could be discussed, as part of the discussion about electoral reform. Surely, Hong Kong people could imagine the need for dialogue that can address both Beijing's not-unreasonable emphasis on "one country" and Hong Kong's vision for "two systems".
The views do not necessarily reflect those of China Daily.
(HK Edition 11/28/2019 page8)