US fear of fast-growing China motivates HK bill
Updated: 2019-11-28 07:14
(HK Edition)
| | | | | | | | | |
| --- | --- | --- | --- | --- | --- | --- | --- | --- |
|   | | Print | | Mail | | Large Medium  Small | 分享按钮 | 0 |
Daniel de Blocq van Scheltinga writes that the US'proposed legislation is not so much about protecting city's citizens as about defending Washington's interests
A United States senator from Florida, Marco Rubio, has pushed and prodded his colleagues with misleading information, gained bipartisan support, and finally managed to obtain unanimous Senate approval of his benignly named Hong Kong Human Rights and Democracy Act of 2019.
This rare bipartisan support in an otherwise very divided US Congress demonstrates the general American fear and mistrust, albeit totally unfounded, of a fast-growing and developing China. According to several economic studies, the US will no longer be the leading global economy at some point next year as China overtakes it. China is quickly also emerging as the new global powerhouse regarding the development of leading technologies in tandem with its increasing influence on the world stage.
American fears of China and all things Chinese is nothing new: Even in 1882, the US Congress - under pressure from trade unions who felt threatened by the much-harder-working Chinese laborers - passed the Chinese Exclusion Act, which led to vigilante groups attacking Chinese residents, amounting to extrajudicial killings.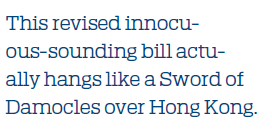 This revised innocuous-sounding bill actually hangs like a Sword of Damocles over Hong Kong. It sought to amend the existing Hong Kong Policy Act of 1992, literally creating a shifting obstacle course for Hong Kong to navigate every year at the US Congress' whims and mercy. It makes for fascinating reading in practice.
Firstly, it is not so much about protecting Hong Kong citizens, or Hong Kong rights and values, as it is about safeguarding America's narrow interests. While this sounds quite logical, as it is after all a US Senate bill, the slightly misleading title does suggest otherwise. The bizarre group of Hong Kong "representatives", a Canadian former Cantopop singer, a student activist, and a disgraced, very short-time Legislative Council member, who all testified before the Senate Committee in order to obtain support for this bill certainly seemed to expect more. This is certainly not their dream bill that they can wave about as if it gives them some sort of international amnesty.
The bill stresses the importance of Hong Kong's continued economic prosperity as vital to US interests; an important aim is to "maintain the economic and cultural ties that provide significant benefit to both the United States and China".
The required safeguarding of US interests includes the respecting and following of unilateral US decisions regarding trade sanctions, and the protection of US technology. All trade passing through or originating from Hong Kong will have to comply with all unilateral US export control and sanction laws. This even includes importing goods into the rest of the country, "whether as part of the Greater Bay Area Plan, the assignment of Hong Kong by Beijing as a national technology and innovation center or through other programs that may exploit Hong Kong as a conduit for controlled sensitive technologies".
The absurd notion is that if the US were ever to impose sanctions on China, then a part of the country, namely Hong Kong, would not be able to assist its motherland by importing the necessary goods!
Secondly, the bill states its support for the high degree of autonomy that Hong Kong is granted, as enshrined in the Basic Law. According to the bill, the US secretary of state has to provide an annual report to Congress, determining whether or not Hong Kong still enjoys a high degree of autonomy. As we know, this will certainly remain the case until at least 2047. The judiciary remains independent; the monetary policy is its own; the currency as well; there is a physical boundary between Hong Kong and the rest of China; and appropriately, it has its own customs control checkpoints and separate Hong Kong Police Force. Thus, it would be very difficult to argue convincingly that Hong Kong does not enjoy a high degree of autonomy. The stated consequences in case the secretary of state determines that Hong Kong no longer enjoys a high degree of autonomy will therefore never come to fruition.
Thirdly, the bill includes provisions on universal suffrage, correctly stating that that is "the ultimate aim", as stipulated in the Basic Law. However, the bill incorrectly suggests that the Basic Law stipulates "universal suffrage, including the ultimate aim of the selection of the chief executive and all members of the Legislative Council by universal suffrage", but conveniently does not mention the stipulated nominating committee. Article 45 of the Basic Law really reads as follows: "The ultimate aim is the selection of the chief executive by universal suffrage upon nomination by a broadly representative nominating committee in accordance with democratic procedures". As the US presidential election is also decided through a nominating committee, called the Electoral College, it cannot be a clerical error that this part is conveniently left out, but rather a way to ensure that Hong Kong is never able to comply as it would entail a change in the Basic Law itself.
The other great uncertainty is whether or not US President Donald Trump wants to sabotage any hope of achieving any sort of trade agreement with China. It would be strange for China to make significant trade concessions, agree to buy vast amounts of American agricultural products, and at the same time accept direct American involvement in and supervision of Hong Kong affairs. No nation on Earth would accept this.
The author is a specialist in international public law, and an adviser on China-related matters to both the private and public sectors. He has lived in Hong Kong for over 18 years.
The views do not necessarily reflect those of China Daily.
(HK Edition 11/28/2019 page8)