Peace must continue to prevail in city
Updated: 2019-11-28 07:14
(HK Edition)
| | | | | | | | | |
| --- | --- | --- | --- | --- | --- | --- | --- | --- |
|   | | Print | | Mail | | Large Medium  Small | 分享按钮 | 0 |
It is hoped that the lull in violence over the weekend during the District Council elections will translate into permanent calm and peace. The lawlessness and violence witnessed in the weeks before the Sunday election were extremely inimical to and recklessly defiled Hong Kong's proud, noble tradition of robust freedoms.
I strongly agree with Chinese President Xi Jinping, when he said in Brasilia at the 11th BRICS Summit on Nov 14 that the most pressing task for Hong Kong at present is to bring violence and chaos to an end and restore order. All sectors of that great city, not just government and the police, should unite to express outrage against the vicious cycle of violence and work together to quickly end the chaos.
If this kind of destructive anarchy that has bludgeoned Hong Kong and its economy were to happen in Los Angeles, New York, Paris, London or Berlin, the governments in those societies would have already clamped down hard with police or their national guard. Their government authorities would have already declared a state of emergency to ban public demonstrations altogether.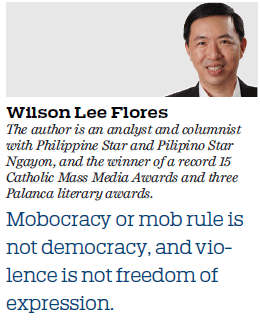 The sadistic violence and terroristic acts of destroying subways, smashing shops, firebombing banks, harming civilians, vandalizing, and disrupting life and commerce in Hong Kong must be stopped in order to safeguard its unique high degree of autonomy, dynamic freedoms and economy. The Hong Kong government and the silent majority of peace-loving citizens of Hong Kong need to protect the autonomy, freedoms and the economic future of their city.
Let us call a spade a spade; the perpetrators of those bizarre and violent acts are rioters, anarchists and terrorists, not so-called "freedom fighters" or "pro-democracy protesters". Mobocracy or mob rule is not democracy, and violence is not freedom of expression but flagrant and atrocious trashing of the rule of law.
In all civilized societies, the freedom of expression may be limited in certain circumstances, such as protecting people from violence, hatred and discrimination. Freedom of expression does not protect statements that discriminate against or harass, or incite violence or hatred against other people and groups.
In the case of Hong Kong in recent weeks, it seems readily apparent from their extremist acts of violence, their vandalism and their firebrand rhetoric that the masked and black-clad rioters were not campaigning for any meaningful reforms to change Hong Kong society. They seem to be intent on destroying institutions and subverting the whole society.
Unfortunately, certain jaundiced pundits, rabid politicos and some biased media in the West often generalize and overly defend all protesters, despite their transgressions of law. Like constitutions of all civilized societies, Hong Kong's Basic Law safeguards only peaceable demonstration, but it is certainly not an absolute and blanket license allowing destructive anarchy and wanton, vicious violence.
In Hong Kong and also across increasingly many societies worldwide, the ubiquitous and liberating social media also tragically has a very serious terrorism problem. Apps like Twitter, Facebook, Instagram and others have been adroitly misused by divergent terror and extremist groups throughout the globe to proselytize, brainwash, recruit, communicate, stoke incendiary hatred and promote their often messianic, diabolical causes.
Civil society, government, religious groups and other sectors in Hong Kong should find ways to stop social media platforms from spreading violence, hatred, and virulent fake news.
Without ending the destructive anarchy, there can be no meaningful dialogue in the city. Without restoring social order, it would be difficult to implement socioeconomic reforms needed to revitalize the economy and improve the quality of life in Hong Kong.
Without putting a decisive end to the chaos, Hong Kong's vibrant, free market and globally competitive economy wouldn't be able to sustain the past generally prosperous 22 years under the pragmatic "one country, two systems" framework. This city should seize emerging golden opportunities in the fast-growing Pearl River Delta region, also known as the Guangdong-Hong Kong-Macao Greater Bay Area.
Chaos in strategically and financially important Hong Kong is not only self-destructive for this city and its talented people, but endangers the stability and economic progress of our whole Asia-Pacific region. We live in an interconnected world, so any unmitigated crisis in the global financial, logistics, tourism and culture center of Hong Kong has direct negative repercussions on the business confidence and investment climate of Asia.
Let peace continue to prevail! Uphold the rule of law, multi-sectoral peaceful dialogue and reforms. Do not allow a rambunctious, noisy and radicalized minority of rioters to hijack the future of Hong Kong and our region.
The views do not necessarily reflect those of China Daily.
(HK Edition 11/28/2019 page8)