Turmoil dents city's attractiveness to expatriates
Updated: 2019-11-25 08:09
(HK Edition)
| | | | | | | | | |
| --- | --- | --- | --- | --- | --- | --- | --- | --- |
|   | | Print | | Mail | | Large Medium  Small | 分享按钮 | 0 |
Six months of progressively worsening turmoil is causing negative reverberations across the expatriate community.
An increasing number are asking how many deaths or how much more bloodshed and destruction is required for all concerned to acknowledge that dialogue can be the only solution to the escalating violence witnessed in Hong Kong over the past six months. The breakdown of society becomes more evident on a daily basis. The immediate costs of reconstruction are becoming apparent, but the long-term impact and eventual cost to society is impossible to determine.
Is there a specific number of deaths or serious injuries required, or what could be the nature of an event of cataclysmic proportions that can stop the violence, ease tensions and begin the very long and difficult process of attempting to heal a seriously fractured society? Or is this simply an example of a new norm? There are many conflicts ensuing around the world now. However, six months of intensive radicalization within a generally peaceful society will no doubt hone more sophisticated and increasingly violent tactics. Sadly, an escalation has been clearly evident over the past few weeks. What for decades was considered as one of the most civilized, peaceful and successful societies in the world has spiraled out of control.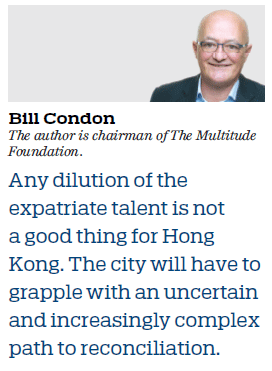 And so it continues. An elderly man being killed, struck by a brick to the head or a policeman being wounded by an arrow, or a student getting shot and many more being seriously injured. By today's standards, the modus operandi of the protesters is unsophisticated but effective. In many escalating conflict areas, the norm becomes a suicide vest, and the objective becomes mass destruction with massive casualties: from the extremes of Syria, with almost 50,000 conflict-related deaths reported, to more recent events in Bolivia, where there are an estimated 23 fatalities to date. In the case of Northern Ireland, over 3,500 people died as a result of a 30-year conflict. Fatalities on any scale are too high a price to pay for an inability or unwillingness to engage in dialogue as the first step toward conflict resolution.
International media interest in conflict areas has a tendency to wane over time. The true horror of conflict, acts of destruction or wanton violence have a frightening tendency to result in eventual disengagement as the general observer becomes more removed from the reality of the acts. The catalyst for this was perhaps the invasion of Iraq, where the atrocities were mainstream TV-viewing and eventually became blurred as the graphic imagery fell into the realm of mainstream movies and video games. And thus it continues as viewers become anesthetized and the images become the norm for those living with the violence. For those not directly affected, the situation is so far removed from everyday drudgery, it becomes almost meaningless.
The international community or the real power brokers tend to lose interest unless there are geopolitical or direct economic benefits; oil tends to spring to mind as being a key factor.
In Hong Kong, the long-term suffering of the victims, families, and friends of all of those involved, and repercussions throughout the broader community, will be monumental. In conflict areas, these people have a tendency to become the forgotten ones. Sadly, few outside the immediate communities really care, and society moves on. The markets bounce back as reconstruction commences.
One of the more noticeable failures of any sign of resolution in Hong Kong is the swell of university students and residents that have left or are in the process of leaving. This seems to be occurring mainly among the Chinese mainland residents, with many fearing for their personal safety. But concerns are growing among the broader expatriate community, with increasing numbers leaving or planning to leave.
As the exodus quietly gains momentum, many who consider Hong Kong home and their preferred choice for retirement are already laying plans to move elsewhere at the first available opportunity. For some, this may be a return to their country of origin, but for others, the attractions of an expatriate lifestyle, particularly in Asia, will result in moving to an alternative location.
Nonetheless, emotions run high and opinions remain divided, ranging from those who are upset because they cannot spend endless hours in the gym or their favorite bars and restaurants, and their children's after-school activities have been impinged, to those with a more holistic view that care deeply about the painful societal shift that Hong Kong is undergoing.
For the typical two-year expatriate placement, many will simply move onto the next international calling, and Hong Kong will be nothing more than a distant memory from a temporary career stopover.
However, there is an increasing number of families who do not wish to see their children going through the university system, and in all likelihood many of Hong Kong's internationally renowned institutions will see a significant drop-off in applications in 2020. A similar sentiment is likely to affect international schools, as an increasing number of families will choose not to bring up their children in today's Hong Kong. The other side of this dilemma is that despite the rhetoric, many of these schools will find it difficult to recruit high-caliber applicants for teaching posts in an increasingly competitive arena. There are also those who have been here for many years but who do not have the option or the financial flexibility to leave so feel somewhat trapped at the moment.
Despite the positive spin, there are an increasing number of corporations actively evaluating restructuring options outside of Hong Kong, although this is partly due to the uncertain global economic outlook and the trade war, which rumbles along. Over recent years, Hong Kong has been losing its allure and is no longer considered a particularly attractive location for many expatriates or their families, with an increasing number of better alternatives across the region. In the past, the deterrents most often cited were the quality of life and the pollution, but recent events have dramatically altered that perspective.
Any dilution of the expatriate talent is not a good thing for Hong Kong. The city will have to grapple with an uncertain and increasingly complex path to reconciliation. Many believe that a broad consensus of opinion or input is likely to be of greatest benefit, whenever the platform becomes available for meaningful dialogue. Nor is this dynamic good from the perspective of the Guangdong-Hong Kong-Macao Greater Bay Area, where there will be a need for overseas talent to bring international business acumen and experience to help drive progress so that the area's full potential can be quickly realized, enabling the area to rapidly move up the economic value chain.
The expatriate community has played a pivotal role in creating a dynamic, outward-looking, vibrant, international society. Now it rests with the government to address the concerns of everyone, and provide and deliver appropriate strategies with the assurances that are required to stem the tide of an expatriate exodus and work toward a harmonious, inclusive future for everyone.
The views do not necessarily reflect those of China Daily.
(HK Edition 11/25/2019 page9)