Tuned out
Updated: 2019-11-22 07:44
By Rob Garratt(HK Edition)
| | | | | | | | | |
| --- | --- | --- | --- | --- | --- | --- | --- | --- |
|   | | Print | | Mail | | Large Medium  Small | 分享按钮 | 0 |
As HK mourns the scrapping of Clockenflap 2019, Rob Garratt looks back on the role played by the city's flagship outdoor music festival over the last 11 years.
This weekend should have been a celebration. For me and thousands of other Hong Kong-based music fans, Nov 22 was a date we'd been counting down to since the final spotlight flickered out at last year's Clockenflap Music and Arts Festival.
The news broke suddenly, but spread like wildfire. At around 7 pm on Friday, Nov 15, phones started to flicker with messages and social media posts revealing the sad fact: The 12th annual Clockenflap had been cancelled.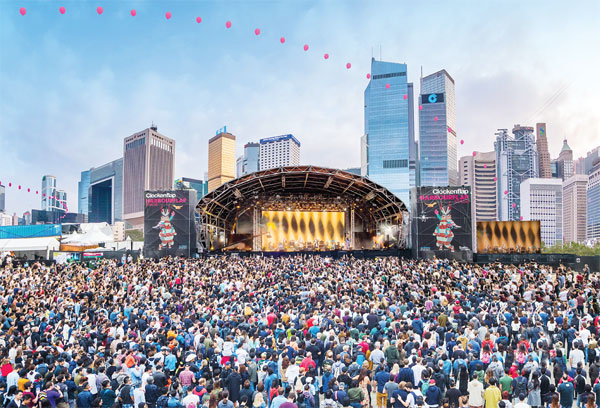 As Hong Kong's biggest annual outdoor music festival, Clockenflap has played a huge role in giving a platform to homegrown acts.
The reason, of course, barely needed stating. "Due to the escalation of the crisis this week..." read the official statement from promoters Magnetic Asia. "Until this week we were fully committed to delivering the festival. Unfortunately, the situation has now made this impossible."
I was surrounded by musicians and music fans when the news popped in my inbox, during the opening hour of a comparatively boutique local music festival - The Aftermath Bar's inaugural AUOM, a two-day affair which crammed 21 original local artists onto the underground bar's cramped stage - a deliberately-timed antidote to and hype-builder for the festival which never happened. A moody fog soon enveloped the room; glances of disbelief were exchanged, conciliatory shots were ordered, lamenting songs played in dedication.
Just days earlier, Clockenflap's publicity machine continued to rumble, highlighting drinks deals and spotlighting must-see left-field artists. Of course it's churlish to worry about something as facile as a music festival at this moment - as tear gas chokes the city, with lives at risk and livelihoods decimated - but the organizers' doggedly determined stance had fueled a stoic belief that Clockenflap would arrive, in a superhero cape, to unite people in harmony, offering some much-needed communal escapism. "After everything we've been through, we needed this," one local musician confided in me, nursing a strong drink, still processing the news.
Endurance tests
Clockenflap is not just Hong Kong's biggest music festival, but one of the region's. Tapping into a previously undernourished local hunger for live music, the event's growth has been phenomenal. Begun as a niche, Brit-centric one-day affair which attracted 1,500 people to Cyberport in 2008, Clockenflap has typically attracted more than 100,000 punters to the Central Harbourfront Event Space over three days in the last few years.
A tenacious spirit has seen its promoters weather various earlier trials: When 2010's festival could no longer be held at Cyberport, owing to government restrictions, rather than cancelling altogether, a one-night warehouse party was staged, headlined by UK indie act The Charlatans.
And when, after moving to West Kowloon Cultural District the following year, red tape outlawed the selling of tickets late in the day, organizers just chose to cut their losses and make the weekend free for all - undoubtedly an act of goodwill that went a long way toward broadening the festival's appeal from an expat-centric affair to a gathering for the wider community.
For many the five editions symbolically hosted north of Victoria Harbour were the glory days - attracting a string of major indie acts including Primal Scream, The Flaming Lips and New Order, as well as legendary disco crowd-pleasers Chic featuring Nile Rodgers and Kool & the Gang, and hip-hop legends De La Soul.
Since moving to the iconic Central location in 2016, the names have only gotten bigger - with 2016-2017 headliners including The Chemical Brothers, Sigur Rs, Massive Attack and The Prodigy. Last year's edition was arguably the most daringly eclectic, with living legends Erykah Badu and David Byrne programmed alongside more contemporary fare.
Promoting local acts
But as big as the names have become, Clockenflap has played an arguably more important role in bolstering its line-ups with local acts - a mutually beneficial relationship which offers vital legitimacy, exposure and live experience to homegrown musicians, and one that has undoubtedly nurtured the scene, not least because it offered a benchmark: For many local acts setting out, the greatest domestic hope is one day being big enough to play Clockenflap, and most noteworthy independent local acts have been invited, with proud exports Supper Moment, Chochukmo, Teenage Riot, GDJYB, David Boring and The Low Mays being just a few of the recent highlights.
This year alone would have hosted more than 50 local acts booked to perform over the event's six stages, which means there will be hundreds of broken musical hearts at a gig-less loose end this weekend.
Even those with little interest in music, or even in the cultural role Clockenflap plays in bringing people together, cannot argue with the positive injection the festival offers the city's beleaguered economy. An estimated 4,000 accredited staff are employed on site every day, from food vendors to sound technicians. Up to a quarter of tickets go to international visitors, meaning thousands of hotel rooms and meals sold. Not to speak of the not-unsubstantial resources consumed by the visiting artists and their entourages.
The last-minute cancellation of this year's festival - for the first time in 11 years - is the dashing of a dream, a break in a barmy, beloved tradition which brought people together for a communal celebration the city is painfully unfit for in 2019.
And what about 2020? Planning such a spectacle surely requires booking bigger artists 12 months, or more, in advance. Likely reeling from a financial catastrophe, it doesn't seem battle-scarred Magnetic Asia will be signing more big checks anytime soon.
"We still believe in bringing people together in positive ways, and will continue to unite people through the power of music and arts" the group's statement ended, the lingering dots almost inviting a question mark. Let's hope the same tenacious spirit that brought Hong Kong to the brink of a 12th Clockenflap in 2019 won't be absent this time next year.
(HK Edition 11/22/2019 page11)