Steering rundown SMEs out of the storm
Updated: 2019-11-22 07:36
(HK Edition)
| | | | | | | | | |
| --- | --- | --- | --- | --- | --- | --- | --- | --- |
|   | | Print | | Mail | | Large Medium  Small | 分享按钮 | 0 |
Economic recession induced by prolonged unrest and the trade war have battered HK businesses. Are government stimulus measures effective? Oswald Chan reports.
Financial Secretary Paul Chan Mo-po is worried that Hong Kong's economy in the fourth quarter may see the worst quarterly performance since the city's return to China.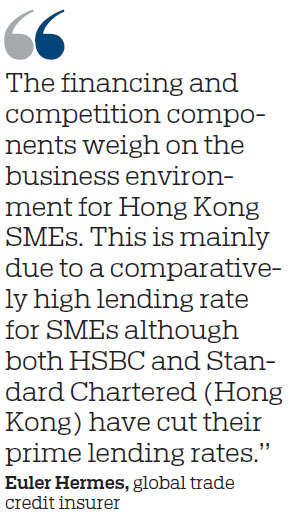 "Dented by the worsening international trade environment and lingering social unrest, the downward pressure on the domestic economy has accelerated," he warned in his blog on Nov 17.
Last week, the HKSAR government downgraded its August forecast for this year's gross domestic product growth rate from zero to 1 percent to a negative 1.3 percent. It would be the city's first annual GDP contraction in a decade.
In the third quarter, Hong Kong's bruised economy had dwindled at an annual, higher-than-expected rate of 2.9 percent. In the same period, the GDP retreated 3.2 percent from the previous three months, following a 0.5 percent quarterly decline in the second quarter.
"As for the negative 2.9 percent growth rate in the last quarter, over 2 percentage points of the contraction came from the slump in the retail, catering and hotel sectors that have borne the direct brunt of the economic malaise," Chan said.
Two consecutive periods of negative growth have pushed Hong Kong into a technical recession. The local economy is poised to slip into recession this year, with its first- and second-quarter GDPs growing at 0.6 percent and 0.4 percent, respectively, from a year ago.
Against the backdrop of fragile economic growth prospects, local small and medium enterprises have hit a rough patch.
According to the latest Hong Kong economic survey conducted by CPA Australia, up to 66 percent of more than 200 Hong Kong members of the global accounting body polled expect the city's economy to contract next year, while 73 percent believe its competitiveness will decline.
Last month, the seasonally adjusted IHS Markit Hong Kong Purchasing Managers' Index indicated the worst deterioration in business activity in the private sector since November 2008, and the rate of decline was the fastest since the survey began more than two decades ago.
The Standard Chartered Hong Kong SME Leading Business Index, compiled by the Hong Kong Productivity Council and sponsored by Standard Chartered Bank (Hong Kong) in September, fell to a historic low level for the fourth quarter this year since compilations started in 2012.
Extending financial aid to SMEs is the most direct way to get SMEs out of the woods, but economists are skeptical about its effectiveness.
The Hong Kong Monetary Authority last month injected a further HK$200 billion ($25.6 billion) to HK$300 billion in credit into local banks to boost lending to SMEs.
Carie Li Ruofan - an economist at OCBC Wing Hang - reckons that trimming the countercyclical capital buffer ratio for banks may not necessarily help all SMEs as banks could still be wary of a bleak business outlook.
"Banks still need to look at a lot of factors, including the nature of the industry, to determine how much they could lend to SMEs," said Kelvin Lau, senior economist for Greater China at Standard Chartered Bank (Hong Kong). "I think the latest government stimulus policies cannot completely offset the current negative market sentiment," he said.
The SAR government had unveiled three rounds of economic stimulus programs worth HK$22.5 billion in the last three months to pull the beleaguered economy out of the recession risk. Early last month, the Li Ka Shing Foundation, founded by Hong Kong's richest man, made a HK$1-billion donation to help SMEs tide over.
"The financing and competition components weigh on the business environment for Hong Kong SMEs. This is mainly due to a comparatively high lending rate for SMEs although both HSBC and Standard Chartered (Hong Kong) have cut their prime lending rates," global trade credit insurer Euler Hermes said in its latest research report.
Apart from financial help, SMEs are urged to explore new markets, streamline their operations through digitalization and relocate business to cushion the recession risk.
Finding new markets is key to SMEs' survival in these difficult times, said Patrick Lau, deputy executive director of the Hong Kong Trade Development Council.
He suggested that the government consider investing in business parks in the 10-member Association of Southeast Asian Nations to provide new customer markets for Hong Kong SMEs.
"Investing in business parks in the member states of ASEAN can bring a host of advantages. Hong Kong companies, for instance, can export ASEAN-manufactured products to overseas markets or sell them in the domestic ASEAN consumer markets," said Lau.
CPA Australia urged Hong Kong SMEs to review their cost structures, improve cash flow management and diversify business operations by investing in innovation and technology.
"We're living in a world that's increasingly volatile, uncertain, complex and ambiguous. Upgrading the workforce's skills and acquiring technology-based knowledge are vital to maintaining competency in today's business world," said Roy Lo, divisional president of Greater China of CPA Australia.
As for business relocation, Hong Kong's electronic-manufacturing and textile industries in the local manufacturing sector that are interested in relocating their production plants to ASEAN member states like Vietnam, Cambodia and Myanmar because these industries are relatively more affected by the US tariffs on Chinese mainland products.
Edmond Lai, chief digital officer with the Hong Kong Productivity Council, said manufacturing enterprises should first assess whether the supply chains in those countries are adequate in keeping their operating costs low and production inventories at an optimal level, apart from tariff considerations.
They should also consider whether ASEAN can offer favorable taxation policies besides political stability and low operating costs.
Frankie Yick Chi-ming, who represents the transport constituency in the Legislative Council, agreed that a sound and adequate supply chain is paramount for business relocation.
"For Hong Kong companies relocating their manufacturing capability to ASEAN, the prerequisite is that those countries must have a comprehensive supply chain. That's because if they lack an adequate supply-chain network, then some parts of the manufacturing process cannot be moved to those countries," he said.
Yick cited the example of Hong Kong enterprises flocking to Vietnam for relocation, but Vietnam faces problems like labor shortages and inadequate infrastructure. Textile industry players are also seeking out Myanmar, Indonesia and Cambodia for relocating their manufacturing operations.
"Hong Kong enterprises should see whether these countries have adequate upstream and downstream industries that can facilitate their relocation," he ssaid.
Contact the writer at
oswald@chinadailyhk.com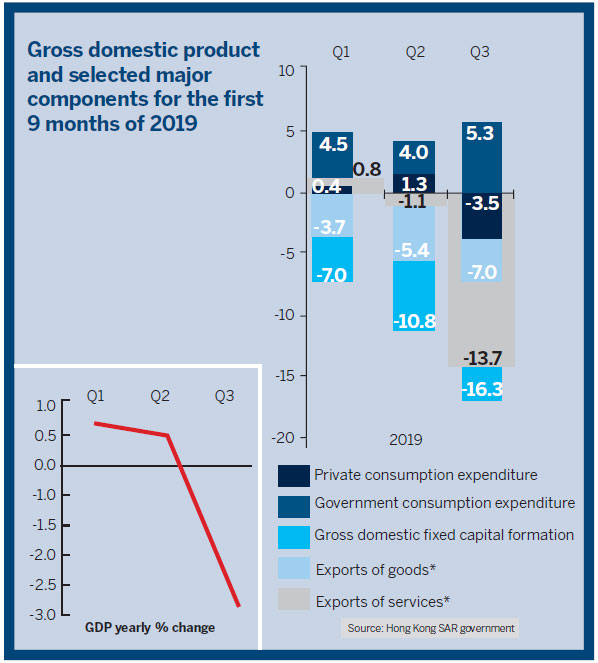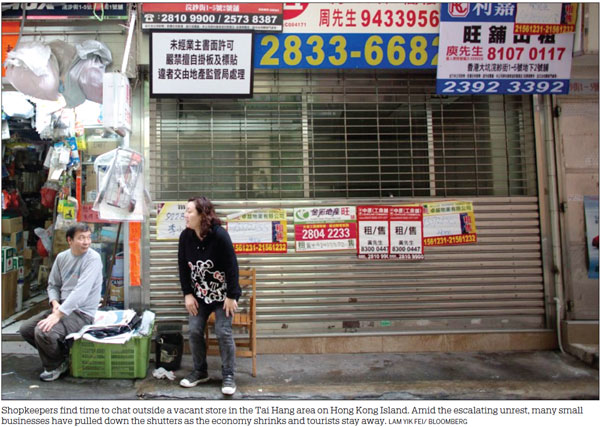 (HK Edition 11/22/2019 page8)