Sustainability-linked portfolios offer ESG options
Updated: 2019-05-31 06:47
By Oswald Chan(HK Edition)
| | | | | | | | | |
| --- | --- | --- | --- | --- | --- | --- | --- | --- |
|   | | Print | | Mail | | Large Medium  Small | 分享按钮 | 0 |
Editor's note: We continue with our series on impact investing, as recent years have seen more and more institutional investors worldwide go out of their way to look for companies with good ESG records, hoping to make a postive impact through their resoponsive investing.
Global institutional investors are using different capital allocation models to address social issues via responsible investments. Oswald Chan takes a close look at how impact investing can facilitate social changes.
Global institutional investors today are more aware of the return potential generated by sustainable businesses - after all, there will be $13 trillion worth of sustainable investment opportunities in key sectors by 2050. At the same time, a study from MSCI found that investors beat standard benchmarks if they invested in companies that improved their environmental, social and governance (ESG) ratings over the prior 12 months.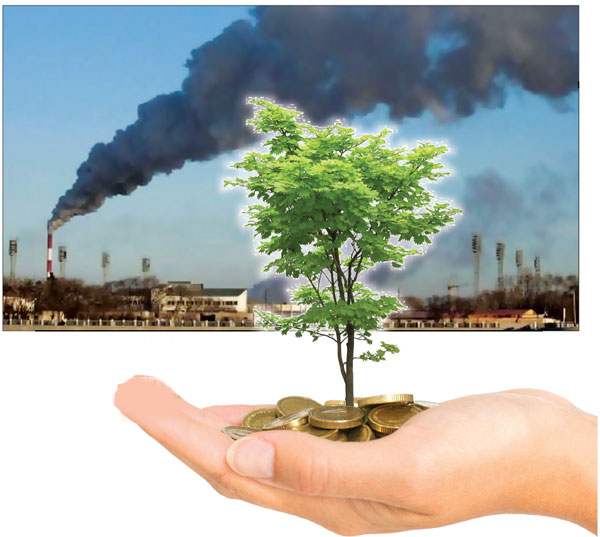 A heating factory in Heihe, in northeastern China's Heilongjiang province, belches out smoke. Institutional investors worldwide have eyed the valuable investment opportunities in companies with flying colors in environmental, social and governance ratings. Photos provided to China Daily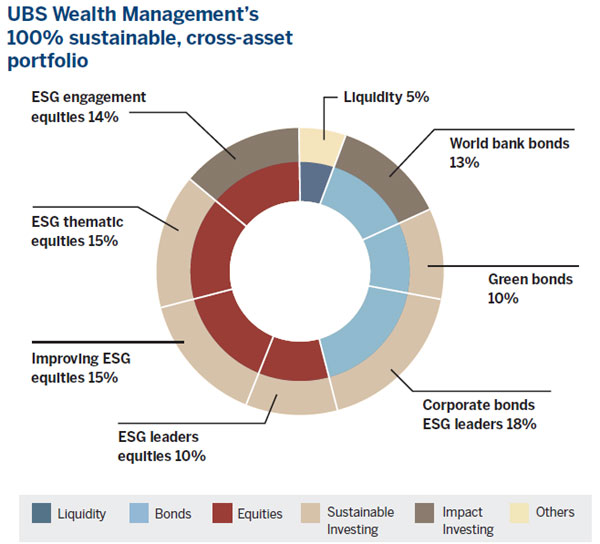 More than 2,000 academic studies of finance reveal that integrating sustainable factors in investing across all asset classes either improves financial returns or doesn't adversely affect them.
Through sustainable investing, investors could encourage corporations to change their business activities to benefit people and the planet. Responsible investments can offer risk management of nonfinancial factors that have the potential to become major financial risks in a rapidly changing business and regulatory environment.
In addition, sustainable investing also offers more new long-term investment opportunities. Renewable energy, sustainable agriculture, water and sanitation, healthcare, as well as financial inclusion are all examples of multibillion-dollar industries.
With the prospect of superior risk management and ample investment opportunities, more institutional investors are gearing up for sustainable investing as a new investment discipline.
In 2018, UBS Global Wealth Management - the asset management business of Swiss private bank UBS - launched the world's first cross-asset investment portfolios for private clients that are 100 percent invested in sustainability-linked assets.
The UBS wealth managers choose financial assets that fit their sustainable and impact objectives and construct investment portfolios based on investors' risk appetites, liquidity constraints and desired consequences.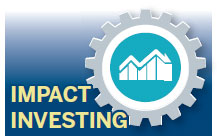 As of March, the 100 percent sustainable cross-asset portfolios has $5billion under management. The three investment strategies of the portfolio (yield, balanced and growth) is earning a 6 percent to 10 percent year-to-date.
At the moment, this sustainability portfolio invests 54 percent in companies that are complying with ESG principles; 18 percent in bonds issued by companies with compliance to ESG principles; 13 percent in bonds issued by the World Bank; 10 percent in green bonds; and 5 percent in liquidity.
Adrian Zuercher, the head of Asia-Pacific asset allocation at UBS Global Wealth Management Chief Investment Office in Hong Kong, told China Daily: "Our fund managers evaluate the sustainability elements of each financial investment based on the five criteria of the Impact Management Project framework: the outcomes targeted (what), the extent of the effect targeted (how much), the outcome's beneficiaries (who), the outcome's positive or negative effect on the status quo (contribution), and the chance that the effect achieved differs from what was expected (risk)."
UBS fund managers undertake an annual review to ensure the fund's strategic asset allocation is well-adapted to the sustainability principle of the changing investment environment. The investment environment always changes as the market evolves; more instruments and solutions with explicit sustainable and impact objectives become available; and investors change their assumptions on risk and return.
"The interest and demand has become more apparent from all regions around the world, and currently mainly from institutional investors in the US and Europe," Michael Baldinger, UBS Asset Management's head of sustainability and impact investing, told China Daily. "In Asia Pacific, sustainability investments are definitely emerging, particularly in those climate-related topics."
The Switzerland-based wealth manager also introduced UK Climate Aware rules-based funds for international investors. It develops a portfolio optimization model which can choose those companies that are better-prepared for a low-carbon future and the Paris Climate Summit's 2-degree reduction scenario, while simultaneously, UBS Asset Management can maintain relatively strict limits on the portfolio's tracking error compared with the benchmark index, the FTSE Developed Index.
Moreover, UBS Asset Management uses this optimization model to spot companies that are more likely to be unable to achieve emissions reductions, and provides concrete suggestions to them so that they can learn and improve their performances in combating climate changes over time.
Finding the best match
This month UBS raised $93 million for UK-based owner-managed investment company Generation Investment Management's Sustainable Solutions Fund, which will commit over $1 billion in sustainable companies focusing on planetary health, people health and financial inclusion.
Apart from these sustainability-related investment funds, investors can express their ESG preferences in a personalized sustainability score to UBS if they want more ESG exposure in their respective portfolios. UBS will compare investors' scores against the universe of more than 20,000 ESG-related stocks and bonds, finding the best match for the investors' ESG portfolios.
As of the end of December, UBS' total sustainability-linked assets amounted to $1.11 trillion and core sustainability-linked assets were $313 billion, constituting 35.8 percent and 10.1 percent of UBS' total invested assets respectively.
The Hong Kong Monetary Authority, the manager of the Exchange Fund for defending the stability of Hong Kong dollar, said in early May that priority will be given to green and ESG investments if the long-term return is comparable to other investments on a risk-adjusted basis.
The HKMA already integrates ESG factors into selecting, appointing and monitoring the Exchange Fund's external managers, performing credit risk analysis of the fund's bond portfolio, and practicing due diligence of private equity and real estate investments.
Looking forward, the HKMA will bolster green and sustainable investments in listed securities and private assets, but declined to say how much capital HKMA will deploy toward ESG assets in the Exchange Fund.
For public-listed securities, the HKMA will invest in green projects or green bond funds as well as adopting ESG equities indexes as benchmarks for passive-portfolio and engaging active-equities managers who apply ESG factors. The HKMA will also source projects with sustainable features before deploying capital into private assets; for example, including green accreditation as a predominant factor for investment in buildings.
"Our investment in Northern European and South American renewable-energy projects generates much higher returns than traditional infrastructure projects," HKMA Deputy Chief Executive Eddie Yue said at a news conference this month when he outlined the green investment strategy of the Exchange Fund for the future. "We will find more sustainable investment opportunities in areas of renewable energy, low-carbon businesses, healthcare and transportation networks."
So far, the HKMA has invested in private assets such as infrastructure that have developed ESG policies, real estate that are green buildings, and warehouses with green and sustainable features.
Diversifying models
It has already invested $2 billion in sustainable projects managed by the International Finance Corp - a member of the World Bank Group that offers investment, advisory and asset management services to encourage private sector development in less-developed countries.
UBS and the HKMA are adopting the investment fund model, whereas institutional investors are attempting to make social transformations through pooling their money in mutual fund investments. Bank of America, on the other hand, uses the capital deployment model to realize social changes.
Bank of America said it will mobilize $445 billion between 2007 and 2030 to low-carbon businesses investors, including renewable energy and transportation, energy efficiency, climate resiliency, clean water and sanitation. The bank has already directed more than $126 billion of capital over the past 12 years in the form of lending, investing, capital raising, advisory services and developing financing solutions.
An example of Bank of America's environmental business commitment is with WaterEquity, an innovation of nonprofit organization Water.org. In 2018, the US-based financial institution closed a $5 million zero-interest loan to help launch the broader $50 million WaterCredit Investment Fund, which is estimated to impact at least 4.6 million people in South and Southeast Asia by providing them access to clean water and sanitation.
Global advisory firm EY said that the $29.4 billion in sustainable investments deployed by Bank of America in the US between 2013 and 2017 has supported an annual average of 76,000 jobs, realized a cumulative $70 billion in economic output, and contributed a cumulative $36 billion to gross domestic product in the country.
"One important aspect of our ESG focus is how we can help mobilize players across the entire financial system to increase the flow of capital to address the major global challenges that are articulated by the United Nations Sustainable Development Goals (SDGs), such as affordable housing, sustainable energy, clean water and sanitation, education, as well as healthcare," said Anne Finucane, Bank of America vice chairman.
"We are bringing together private banks, institutional and individual investors, development banks, and nonprofit organizations to ensure more capital can be applied to a single issue or opportunity."
In April, Bank of America announced it will deploy $300 billion from 2020 to 2030 to sustainable-business activities. The US bank will continue to support sustainable green and social bonds, green loans, ESG-collateral loans and other creative lending instruments to tackle global sustainability issues.
Apart from the traditional investment fund investment model and capital deployment model, giving money directly is the third way of responsible investing.
In 2018, Bank of America mobilized more than $50 billion in lending, investing and philanthropy to deploy capital toward the broader SDGs. The UN Commission on Trade and Development estimates there will be a $2.5 trillion annual funding gap for responsible investments in basic infrastructure, food security and climate change mitigation in developing countries alone.
UBS was among the 44 companies that first signed the UN Global Compact upon its launch in 2000 and formed the UBS Optimus Foundation to tackle pressing social issues through committing capital in different sustainability projects.
The UBS Optimus Foundation so far has made 200 active grants with 211 million Swiss francs ($210.4 million) in grants under management, improving the lives of 2.8 million children around the globe in 2018.
UBS also created the UBS Oncology Impact Fund - the largest healthcare impact investment to date - and partners with the World Bank Group to offer the development bank's bond investments to its wealth management clients.
Contact the writer at oswald@chinadailyhk.com

(HK Edition 05/31/2019 page9)