SAR should give greater priority to the vulnerable and the marginalized
Updated: 2019-05-07 07:37
(HK Edition)
| | | | | | | | | |
| --- | --- | --- | --- | --- | --- | --- | --- | --- |
|   | | Print | | Mail | | Large Medium  Small | 分享按钮 | 0 |
Ho Lok-sang makes a powerful case for why HK's policymakers need to care more for disadvantaged people - including those with mental disabilities
To me, the top policy priority in Hong Kong is to truly care for the most vulnerable members of the community.
I believe our economy will do fine, as long as a major war does not happen. As the world's freest economy, things will by and large look after themselves - as long as our regulators apply due diligence to ensure orderly and honest markets. I do believe that given the ingenuity of our entrepreneurs, our hard-working and skilled labor force, and the superior infrastructure that Hong Kong already has and is continuing to improve, and given a resilient economy on the Chinese mainland, with its Belt and Road Initiative and the Guangdong-Hong Kong-Macao Greater Bay Area plan and other policies to promote sustainable development, we will go through challenges largely unscathed, as we have done over the years.
However, the most vulnerable members of the community are still waiting desperately for a helping hand.
Who are these people?
These are a silent minority, and because they are a minority and have always kept quiet, we have not given them the attention that they deserve.
They seldom take to the streets in protest, and they seldom make any news at all, until tragedies occur. It is then that we are aware of their existence and our neglect.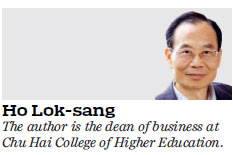 On April 27 this year, the body of a woman dead for weeks was found in her home. Her 68-year-old husband was arrested for not taking appropriate actions to properly dispose of a dead body. The couple had been married for 40 years and were living alone by themselves. Only when the smell of the dead body triggered a complaint from neighbors was the matter brought to light. The husband was distraught with the passing away of his beloved wife and did not want the body to be taken away from him.
Just two days later, on April 29, a disease-stricken couple fell from the roof-top of their apartment to their death, leaving behind a 25-year-old mentally handicapped older son and a 14-year-old son.
The following day, on April 30, a mentally handicapped 59-year-old woman lost her senses and attacked her handicapped and bed-ridden 66-year-old sister. By the time another sister who was living with them, and who took care of both of them, heard a scream and stopped the attack, the victim had both her eyes injured - one severely. This sister was 64 years old and was the single caregiver for the two handicapped sisters.
These are the most recent incidents. But from time to time, we hear news about a spouse killing his or her handicapped or sick spouse, a parent killing his or her handicapped child, or a caregiver ending his or her life.
These people have been largely neglected or forgotten by our policymakers. Sadly, the only legislator who has spoken out on the behalf of people with special needs that comes to mind is Fernando Cheung Chiu-hung, who happens to have a mentally handicapped daughter. As the father of a mentally handicapped person, he understands the pressures on caregivers, and is particularly worried about the future, as he himself ages.
Unfortunately, politics is such that it pays, both for the government and for legislators, to cater to the demands of those with the strongest voices and the largest numbers and ignore the silent minority.
Presently the queue for admission to a proper elderly home is long, but the queue for proper institutional care for those who cannot take care of themselves is even longer, normally in excess of 12 years.
The theme of the 2018 Policy Address was "Striving ahead; rekindling hope". It is to the credit of the SAR government that it regularized the Scheme on On-site Pre-school Rehabilitation Services for children with special needs after the success of the pilot scheme. It has also entrusted the Rehabilitation Advisory Committee "to formulate a new Hong Kong Rehabilitation Programme Plan to set out the strategic directions and measures to address the service needs of persons with disabilities at different stages of life". However, caregivers who are fast aging and who have grown-up handicapped children cannot wait. The government is probably right that living at home and postponing their admission to residential care homes may well be preferred. But this must be a voluntary choice given the availability of residential care homes. The reality, unfortunately, is that there are no residential care homes available, and many caregivers are in a state of desperation. That is the cause of tragedies already too numerous to tally.
For this reason, I urge the SAR government to seriously consider the plight of these people. Just because this "silent minority" have few advocates speaking on their behalf should not be the reason to ignore their plight. In order to rekindle hope, we need to take action, invest the necessary resources, and proactively seek to relieve the burden of caregivers who are living in anxiety, exhaustion, and even in desperation.
(HK Edition 05/07/2019 page8)