National identity is the basis of national security
Updated: 2019-04-18 07:14
By Paul Yeung(HK Edition)
| | | | | | | | | |
| --- | --- | --- | --- | --- | --- | --- | --- | --- |
|   | | Print | | Mail | | Large Medium  Small | 分享按钮 | 0 |
National security became something of a topical issue recently as the Sino-US trade row persists. There are concerns that attempts to play the "Hong Kong card" will pose a threat to national security. The significance of safeguarding national security in Hong Kong was highlighted at the second National Security Education Day Symposium held in the SAR on Monday.
Just as Wang Zhimin, director of the Liaison Office of the Central People's Government in the Hong Kong SAR, remarked, safeguarding national security plays a crucial role in maintaining the SAR's long-term stability and prosperity - as well as in protecting the well-being of Hong Kong people. National security education is undoubtedly a crucial task. The question is: How can we achieve it? Basically, there are two approaches: One is behavioral and the other is cognitive.
What I mean by "behavioral" is physical action that Hong Kong society can take on national security issues. According to Article 23 of the Basic Law, Hong Kong is obliged to enact laws to prohibit any act of treason, secession, sedition, and subversion against the central government. Although the first attempt to pass the relevant legislation in 2003 was not successful, the SAR government has tried to plug legal loopholes by putting some existing ordinances to good use. A remarkable example was the outlawing of Hong Kong National Party (HKNP), a separatist political group, in accordance with the Societies Ordinance, last September. This shows that action can be taken to safeguard national security even before a national security law is enacted. That Chief Executive Carrie Lam Cheng Yuet-ngor subsequently submitted a report to the central government on the banning of HKNP has further highlighted Hong Kong's constitutional responsibility to safeguard national security. Stephen Lo Wai-chung, commissioner of police, has demonstrated the authority's determination to root out separatism by emphasizing the police's zero tolerance to acts advocating independence. This implies that Hong Kong is capable of safeguarding national security by fighting against any separatist behavior in regard to law enforcement.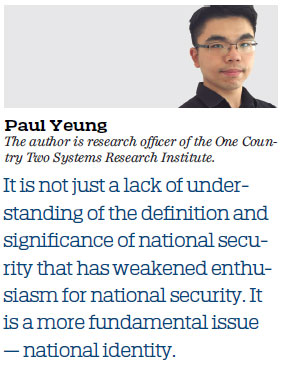 The crux of the issue is a cognitive one. Carrie Lam has commented that Hong Kong residents have a relatively inadequate understanding of national security and pointed out the need for further national security education in the SAR. The goal is to help people gain a positive view on the issue and create a favorable social environment for national security legislation. The efforts of the SAR government should be appreciated. However, the issue should be dealt with in a more in-depth way.
It is not just a lack of understanding of the definition and significance of national security that has weakened enthusiasm for national security. It is a more fundamental issue - national identity. The reality is that the sense of national identity is worrying in Hong Kong. Let's take the poll conducted by the Public Opinion Programme of the University of Hong Kong as a reference. Although this study frequently comes under strong criticism for its research methods, it is so far the most comprehensive study on the topic of national identity in Hong Kong. In the study, the sense of identity is categorized into four types - "Hong Kong people", "Hong Kong people in China", "Chinese in Hong Kong" and "Chinese". Let's take the latter three types as a "Chinese" identity. The results in 2018 revealed that the sense of identity as "Chinese" was 58.3 percent, the sense of identity as "Hong Kong people", without any sense of identity as Chinese, is 40 percent. These figures are worrying when we compared them with those obtained in 2008, when the sense of identity as Chinese was 77 percent, while the sense of identity as Hong Kong people was only 21.8 percent.
The biggest threat to national security is not legal loopholes, but "loopholes of the mind". The reason behind it is complicated, both externally and internally. The Chinese nation is coping with the most complex and capricious security environment since the end of the cold war. This can, hopefully, help enhance Hong Kong people's sense of national identity as they would realize that Hong Kong cannot stand aloof from such a complex international situation. They have to realize their genuine national identity, instead of keeping a narrow localist vision. In a cognitive perspective, safeguarding national security should not be just an obligation for Hong Kong people, but also a value, just like liberty, something cherished by all society.
Bruce Lee once shared his wisdom with us: "You must be shapeless, formless, like water. When you pour water in a cup, it becomes the cup. When you pour water in a bottle, it becomes the bottle. When you pour water in a teapot, it becomes the teapot." When national security is perceived as a value, it should also be like water, and legislation is just one of its forms.
(HK Edition 04/18/2019 page12)