Making art fairs even better
Updated: 2018-05-18 07:07
(HK Edition)
| | | | | | | | | |
| --- | --- | --- | --- | --- | --- | --- | --- | --- |
|   | | Print | | Mail | | Large Medium  Small | 分享按钮 | 0 |
Editor's Note: Magnus Renfrew - who gave Hong Kong its first major international art fair which eventually grew into the formidable Art Basel Hong Kong - is at it again. Renfrew has just announced the dates (Jan 18 to 20, 2019) of Taipei Dangdai, Asia's new international exposition of "art and ideas". China Daily Hong Kong Edition caught up with the man in the lead-up to the launch.
Q: Why does Asia need one more art fair? What's Taipei Dangdai going to bring to the table?
A : The art fair scene in Asia at the moment is quite top heavy. I think there's a need to try and develop the domestic collector bases in different constituencies around the region. With increasing interest in the region, galleries from all over Asia but also elsewhere in the world are looking to expand their collector bases in the different constituencies around the region and they would like to have a platform that gives them a sense of comfort level. There will be an element of quality control in Taipei Dangdai that provides them with a sense of context in which they would be happy to be seen. Galleries are very sensitive about the company in which they are presented
We would be looking to having about 80 to 100 galleries in the first year. We are more interested in quality than quantity
Q: You founded Hong Kong International Art Fair (HKIAF), the predecessor of Art Basel Hong Kong (ABHK). Do you feel a pressure to do even better this time?
A : It's not possible to re-create success, only re-create the circumstances that led to success. The reason for the success of the ABHK predecessor is that it identified a need, the positioning was determined on the basis of a rigorous analysis of the context and the possibilities of that context. It was about trying to build strong stakeholder support, and have a respect and sensibility toward the place in which the fair is going to take place. Those are the things we are working hard at trying to achieve an understanding of. It's as much of a learning curve for us now as it was when we launched HKIAF. It's an ongoing learning process. We have to apply a spirit of curiosity and collegiality and positivity in a way that we hope could be both an interesting and exciting prospect for both the galleries from outside of Taiwan that have engaged with audiences from Taiwan but also for galleries and artists from Taiwan and the art museums of the city.
Q: Why is talking about art as important as showing it at art fairs?
A : I think the programming around art fairs has become in some ways a bit formulaic. Often the art world can seem to be a bit exclusionary, a little bit navel-gazing sometimes.
The reality is that art is about ideas. Artists try to make sense of the world and they are addressing issues that affect all of us: love, death, sex, loss - all these different issues that are one way or another part of the human condition. In that sense art should be open to everybody. I think we want to open up the discourse, not just exclusively focus on art itself but on certain ideas about the past, present and future. We would like to have speakers from archaeology, urban planning, science and technology.
Q: And how do you feel about the competition from heavyweight art fairs already on the circuit?
A : We don't define ourselves in opposition to any other art fair. We want to positively look to building a new identity. I have always believed: chase the dream and not the opposition.
We want to create an art fair that has a positive sense of the regional which helps shine the spotlight on the incredible cultural production happening across Asia.
We also have a number of Western galleries participating, but we like to focus on those Western galleries that are broadly participating, those that have made a commitment to Asia, the ones who have a presence here or have showcased artists from the region in their programs elsewhere in the world or have been working hard to showcase their program in Asia, building an audience base for art from Asia.
Q: Aren't Asian collectors more interested in art from elsewhere these days?
A : Once you start getting interested in contemporary works from your own country it's not such a huge leap to be collecting contemporary art from elsewhere in the world. And that's what we've been seeing over the last five years. Collectors from Asia are becoming much more open to collecting work from beyond their own cultural or aesthetic backgrounds. At the same time, I think that over the next two years we are going to see a return of increased interest in collecting contemporary art from Asia as well.
I think it's important to provide a qualitatively determined roster of galleries and artists having an emphasis on Asia, to provide people with the opportunity to discover their work.
Q: As collectors look beyond their immediate interest areas, artists too seem to be increasingly working across disciplines
A : Western art is traditionally associated with oil painting, while art from East Asia has largely been about ink painting. A lot of artists have rejected those culturally essentialist constraints and are producing work that are in all sorts of different media, transcending these reductive and essentialized limitations.
Q: The lives of artists have changed in other ways too, in these times of instant audience feedback
A : I think artists should not be too self-conscious about the reception. Artists to a certain extent have to be detached from their audience. They should create freely without external pressures of what they should be producing.
Sometimes it's a good thing to be able to slow down, not be too responsive, and really focus on one's long-term career rather than what could be the next big thing.
It's one of the reasons why the gallery system is important.
They help provide a buffer between the market and the artist, giving the artist a bit of distance from their own reception. That definitely helps the creative process.
Interviewed by Chitralekha Basu.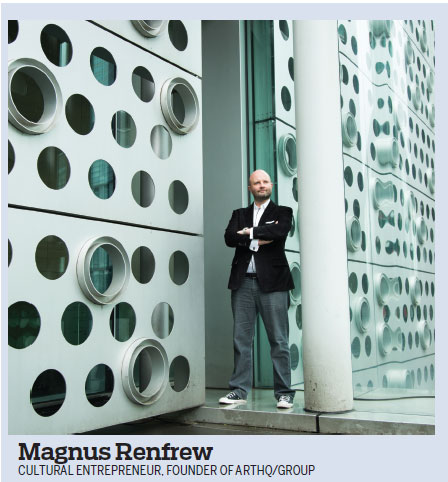 (HK Edition 05/18/2018 page9)