The divas come home
Updated: 2018-04-13 07:44
(HK Edition)
| | | | | | | | | |
| --- | --- | --- | --- | --- | --- | --- | --- | --- |
|   | | Print | | Mail | | Large Medium  Small | 分享按钮 | 0 |
Louisa Wei's new documentary, Havana Divas, is about two octogenarian Cantonese opera performers from Cuba who came all the way to China looking for their roots. Neil Li caught up with the director.
In the mid-1800s, more than 100,000 Chinese people were living in Cuba. They established Chinatown districts such as Havana's Barrio Chino where their culture, food and music took root. A number of Chinese opera troupes also performed, such as the Kwok-kwong Opera Troupe, comprising several Cuban or Chinese-Cuban performers like Caridad Amaran and Georgina Wong. Hong Kong filmmaker Louisa Wei has traced Amaran and Wong's story and their lifelong love of Cantonese opera in her latest documentary, Havana Divas.
Dual identities
Wei first learned about the Cantonese opera-singing Cuban women from her producer Law Kar on the sets of her previous film about the Chinese filmmaker Esther Eng, Golden Gate Girls. That was around 2011. And then they found out that Amaran and Wong, both already in their 80s, were in fact in Hong Kong at the time, on their way to visit their ancestral homes on the Chinese mainland. Wei made a quick decision to send a cameraperson up with the singing duo to get some footage.
Wei calls Golden Gate Girls and Havana Divas "sister works", one of their shared themes being the crossing of cultures and borders. One of Havana Divas' most memorable sequences shows Amaran adeptly applying makeup and putting on her costume to transform into a Cantonese opera performer. In an instant, the Spanish-speaking elderly Cuban woman switches to singing fluently in Chinese. It's a captivating scene that exemplifies the women's dual identity.
Cultural bonding
Chinese people have been living in Cuba since the 1850s when they were first brought there on eight-year indentured laborer contracts to work on the sugar cane fields. Today about 1 percent of the Cuban population has Chinese lineage.
While Wong was born to a Cuban mother and Chinese father, neither of Amaran's birth parents were Chinese. After her father's early death, her mother remarried Julian Fong and it was from her Chinese stepfather that Amaran inherited a love of Cantonese opera.
"Law Kar and I were also attracted to the story by the father-and-daughter relationships, especially the one between Caridad and her foster father. Although he wasn't her biological father, the two of them connected so well over Cantonese opera, spending a lot of time together. Their relationship was better than some between biological fathers and daughters. My producer and I were very touched by this," Wei says.
Amaran and Wong joined the Kwok-kwong Opera Troupe in 1939 and toured all over Cuba throughout their teens. Amaran had the opportunity to perform with famous Cantonese opera artists like Siu Yin-fei, Mo Dan-so and So Chow-lai when they performed in Havana. Eventually Wong gave up performing to study in college and later became a diplomat. Amaran's Cantonese opera career came to a halt after the Cuban Revolution. She eventually married and started a family. It wasn't until Wong moved back to Havana after retirement that the two stage sisters began performing again in an effort to revive the art at home.
The way back home
After their initial meeting in 2011, Wei met up with Amaran and Wong again in 2014 when they returned to China for the second time to continue their search for their ancestral homes. With the help of friends like Wei's producer Law, the women were able to find and visit the hometowns of Amaran's stepfather in Kaiping and Wong's father in Enping.
Wei felt it was integral to include the women's return to their fathers' homeland in her film. "I think (their search) was more of a nostalgia for their fathers instead of their fathers' ancestors. It was like making a connection to their fathers. As you grow older, you begin to relate to your parents and grandparents," she explains.
Wei went to Havana for two weeks in early 2015 to film interviews with Amaran, Wong and their families. The women showed Wei and her crew around the Chinatown district. Cuba now has only about 400 Chinese-Cubans, many of them elderly people living in the Barrio Chino.
The film dutifully takes the audience through the women's journey from the beginning of their singing career to the present time, showing Cantonese opera's impact on their lives and communities. During one of their trips to China, the divas visited Foshan, the birthplace of Cantonese opera, where they took part in an impromptu performance as well as a professional photoshoot in full costume and makeup. The film captured how thrilled Amaran and Wong were with these experiences.
"When we were wrapping up filming, I asked Caridad and Georgina what their biggest wish was and they both answered it was to come back to China every year. They had lots of fun as people took them to shows and treated them with food that they missed. I think these things brought back their memories of their fathers," Wei says.
Threaded narratives
Havana Divas can easily be divided into three parts: the women's journey, the Cantonese opera scene during the 1930s and 1940s and Cuba's history. The film might seem a bit disconnected at times as the relation between the three tracks are not immediately obvious. Wei reveals this gradually, through a varied mix of music, interviews and historical material.
Cantonese opera fans will be interested to learn more about the international reach of the genre in the 1930s and 1940s, while any documentary on Cuban life is sure to touch on its complex history. Wei spent a long time fact-checking and took care to not bombard the audience with too much information, not an easy task to accomplish in a 90 minute-long film.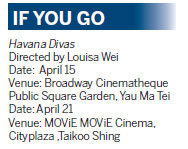 While Wei enjoyed talking to Amaran and Wong, who she says took her in as a friend almost immediately, the language barrier presented the biggest challenge in the editing process. Although Amaran was able to speak a bit of Chinese, she and Wong primarily spoke in Spanish which required Wei, who only knew a little Spanish, to spend hours listening to the interviews while referring to a translated script alongside.
The effort seems to have paid off. "From the initial screenings, the audience seems to come away with different messages and I'm happy with that," Wei says. "Some people were impressed with the women's efforts to preserve Cantonese opera. Others were inspired by their search for their ancestors and wondered about their own family members they have lost contacts with. Some even said it's about chasing your childhood dreams. I actually enjoy this part a lot, listening to people and hearing all these different ideas."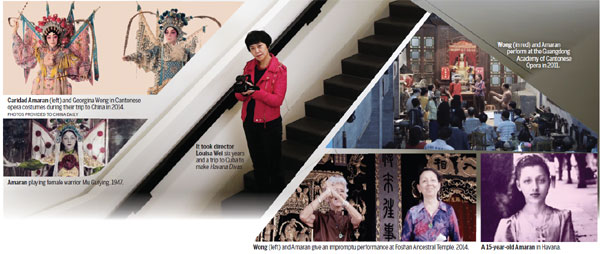 (HK Edition 04/13/2018 page10)