Shenzhen offers cure for homeownership mania with rental scheme
Updated: 2017-11-27 07:55
By Sophie He(HK Edition)
| | | | | | | | | |
| --- | --- | --- | --- | --- | --- | --- | --- | --- |
|   | | Print | | Mail | | Large Medium  Small | 分享按钮 | 0 |
My friend Sally recently bought an apartment in Shenzhen, where she has worked and lived for the past three years; the 45 square-meter (484 square foot) apartment in Luohu District cost her 2.6 million yuan ($394,000), or HK$3 million.
Her parents helped her out with a down-payment of 1.6 million yuan, and she had a 1-million-yuan mortgage from a bank. Although 1.6 million yuan is probably her parents' life savings, they are very pleased and relieved that their only daughter now has a home in Shenzhen, after years of waiting for property prices to come down a little (they didn't) and desperately seeking the right apartment.
An HSBC survey early this year found that on the Chinese mainland 70 percent of the millennial generation own a home, the highest proportion among the nine countries HSBC surveyed - in the United States just 35 percent of millennials own properties. Since Chinese people consider owning a home is a symbol of "stabilized" life, boys who want to marry a good girl had better have their own home.
In Hong Kong, people are also crazy about owning a home. If you read any of the city's mainstream newspapers, there will be dedicated pages of real-estate news, where you will find which project is on sale right now or in coming months. The news reports will also show long lines of buyers queuing up in front of sales offices; they will even tell you which celebrity in town has just bought a new apartment.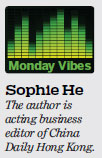 It has come to a stage that people are judging you and you may feel you are defined by whether or not you own a home.
When Steven Lam Hoi-yuen, co-founder of logistics startup GoGoVan, announced the merger with mainland freight group 58 Suyun, a move that will make GoGoVan the city's first $1-billion "unicorn", Lam was stunned that reporters would rather focus on whether he owns a home in the city, and when he will use his newly raised money to purchase an apartment.
But there is hope things may change in future as Shenzhen, along with other first-tier mainland cities, is regulating and promoting its housing rental market, encouraging young people to rent rather than buy.
The Shenzhen government spares no effort to promote its long-term lease housing market. According to local media reports, for a local housing project named "Buji 1983", tenants can pay upfront 10-year rents at a fixed monthly price, guaranteeing a roof over their heads for the next 10 years at a fixed price.
For a 45 square-meter apartment with decoration, a tenant can choose to pay 220,000 yuan for 10-year rent, which translates into 1,800 yuan per month, significantly lower than the average rental level in the same district.
Think about it - 10 years is a relatively long time in your life. During this time you don't have to worry about the landlord raising rents or throwing you out.
Even if you don't have 220,000 yuan, no worries. China Construction Bank in Shenzhen provides loans to the long-term lease housing project tenants - up to 1 million yuan and a 10-year repayment period.
This is just a beginning but when more and more people buy into this concept and believe that having a long-lease rental apartment is just the same as owning a home, when society is free from the pressure of buying properties, when people no longer judge you by the house you own, the younger generation will finally be free. They will be able to focus on other things; they are free to be whatever they want to be - entrepreneurs, musicians, poets, artists - without having to constantly worry that if they can't buy a home in the city, they will eventually be forced out. Wouldn't that be nice?
(HK Edition 11/27/2017 page10)