Don't try to fool the Hong Kong people
Updated: 2017-08-15 06:22
(HK Edition)
| | | | | | | | | |
| --- | --- | --- | --- | --- | --- | --- | --- | --- |
|   | | Print | | Mail | | Large Medium  Small | 分享按钮 | 0 |
Lau Nai-keung explains what is really behind the recent bizarre antics and claims of Democratic Party member Howard Lam
Democratic Party member Howard Lam Tsz-kin on Friday claimed that agents from the Chinese mainland put staples into his legs after he asked soccer star Lionel Messi to send a message of support to the late activist Liu Xiaobo.
Bizarre? Indeed it is. I can imagine editors at The New York Times laughing a great deal when they wrote the headline of "Hong Kong activist says Chinese agents stapled his legs over Messi photo".
The South China Morning Post was also very sensible in its headline for this story: "Hong Kong police investigate democracy activist's claim he was kidnapped and tortured by mainland China agents". There is already an investigation going, but on what exactly: Is it on the alleged kidnapping, or Lam's misuse of police resources?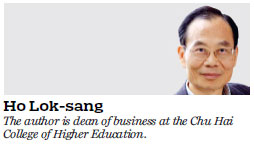 According to his version of the matter, Lam wrote to FC Barcelona, the Spanish soccer club, to ask for a signed photograph of Argentinian soccer star Messi early last month. Lam made the request because he heard Liu was a fan of Messi. Because Liu was dying from cancer, Lam wanted to send the signed photograph to him as a gift.
After Liu's death, Lam was holding onto the Messi photo which was rapidly losing any political PR value. Maybe presenting the photo to Liu's widow will also give him some media exposure. But there are surely better ways to use the photo.
According to Lam, he was kidnapped in the Mong Kok district and tortured on Thursday while arranging a trip to the United States (a country which often likes to take the moral high ground while boasting of its unlimited freedoms). He said the attack was related to the Messi photo because someone speaking Putonghua called him earlier in the week, warning him not to give the Messi photo to Liu's widow. The alleged Chinese agents apparently used a stapler as their secret weapon!
Stapled over the Messi photo? This is perhaps too much like something out of The Da Vinci Code!
What shocked me more than this ridiculous story is Lam's attitude toward his own body. At the press conference, he held up his shirt to reveal his stomach for reporters to take photo. Photos of his large stomach and thighs, taken from unseemly angles, then appeared in the press over the next few days.
While he should not be too self-conscious about his body, he should not have an attitude of "I do not care". From what I saw in Lam's press conference, "fativism" has secretly gained ground in society.
"Fativism" or the fat acceptance movement (also known as the size acceptance, fat liberation, fat activism, or the fat-power movement) seeks to change the anti-fat bias in society. The movement argues that fat people are targets for hatred and discrimination, and that attitudes of fat-phobia are evident in many social institutions. This includes the mass media; where fat people are often ridiculed or held up as objects of pity.
The history of the fat acceptance movement dates back to 1967 when 500 people met in New York's Central Park to protest anti-fat bias. But the movement is also controversial as critics believe it encourages obesity.
That Lam is willing to show his massive body without any shame shows fat acceptance has become more common in our city.
In general, when a man grows older, he cares less about what other people think of him. He is not as easily embarrassed as when he was young. In other words, he becomes less dignified.
Lam is a curious mix of attitudes. He obviously needs attention, so he does care about what other people think. But it also appears that he does not care what kind of attention he is getting.
In marketing, generally any publicity is good publicity. But when it comes to politics, this is open to question. So too in the business world; indeed, the shareholders of BP and Toyota, which have both suffered falls in their market price due to worldwide reports of their recent difficulties, may feel differently.
Lam and his party should be reminded that Hong Kong people are not stupid. Their antics will only achieve so much - whatever their real goals are.
(HK Edition 08/15/2017 page8)