Hong Kong scientists' vision flies high with Tianzhou
Updated: 2017-07-07 05:45
(HK Edition)
| | | | | | | | | |
| --- | --- | --- | --- | --- | --- | --- | --- | --- |
|   | | Print | | Mail | | Large Medium  Small | 分享按钮 | 0 |
Researchers seek to keep astronauts from losing bone mass by knocking genes out of bone-building cells, Honey Tsang reports.
On April 20, Tianzhou-1, China's first cargo spacecraft, rocketed up from Wenchang Spacecraft Launch Site in Hainan province. It slashed through the darkness and headed into space - leaving fiery blaze trails and applause.
It was an unmanned space mission but hundreds of cultured cells - snugly cradled aboard the Tianzhou-1 - played a part as stand-in astronauts in search of a possible cure for osteoporosis.
Osteoblasts - the technical term for bone-synthesizing cells - were the specific cell type packed up and sent into space. For years, scientists have studied osteoblastic cells on earth for clues about how to hinder, or at least delay, the loss of bone density that comes with age.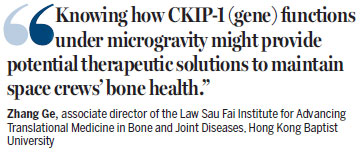 In 2012, two medicine experts from Hong Kong - Lyu Aiping and Zhang Ge - discovered that the CKIP-1 gene, which is expressed in osteoblasts, is a significant inhibitor of bone formation.
The researchers conducted more experiments, using advanced genetic technology to remove CKIP-1 genes from mouse osteoblastic cells. The result was just as encouraging as expected. Cells without CKIP-1 formed much greater and denser bone mass.
The discovery has been tried and tested on the ground but Lyu and Zhang attempted to make a quantum leap. They are moving into an ambitious stage of scientific exploration - can CKIP-1 do the same work in space as it does on earth?
"Studying CKIP-1 in space is of considerable scientific importance," said Zhang, associate director of the Law Sau Fai Institute for Advancing Translational Medicine in Bone and Joint Diseases (TMBJ) at Hong Kong Baptist University (HKBU).
"As humans normally lose 1 to 2 percent bone mass in space every week, knowing how CKIP-1 functions under microgravity might provide potential therapeutic solutions to maintain space crews' bone health," he added.
The 1-percent loss per week might sound trivial, but Zhang stressed it is in fact an alarming amount, "especially when considering that postmenopausal women lose 1 percent bone mass per year instead".Joint effort in space
The experiment, aimed at revealing the functioning of CKIP-1 in osteoblasts under microgravity, was the only cross-boundary space science project aboard the Tianzhou-1.

The experiment was first proposed and led by HKBU's medicine scholars, and overseen by China Manned Space Engineering Office (CMSEO) and Technology and Engineering Center for Space Utilization (CSU) of the Chinese Academy of Sciences.
Ever since it was initiated in December 2013, the project has preoccupied researchers across the boundary in years-long preparation.

About a month before Tianzhou-1 lifted off, Hong Kong researchers went to Wenchang launch base and worked meticulously to culture the perfect batches of mouse osteoblast cell lines devoted to the space experiment.
Wang Luyao, an HKBU researcher responsible for breeding the cell line, said the environment in space is starkly different from that on earth. The team put their noses to the grindstone to engineer the cultured cells to be acclimatized to cosmic conditions, she added.
In doing so, not only did researchers have to remove CKIP-1 genes from the cell line - which is the very first prerequisite of the experiment - they also propagated a new breed of osteoblastic cells that were carbon dioxide independent.
"In general, carbon dioxide is of vital necessity for cells to grow better," added Wang. "It took us tremendous efforts to genetically vary the osteoblasts so that they could survive in space even without carbon dioxide."
The osteoblastic cells the Hong Kong researchers domesticated stayed in space for about a month. In the course of the experiment, scientists examined the cells via live cell imaging system - a technology that enables scientists to study cellular activities through time-lapse microscopy.
Drift further
The team's desire to probe the functioning of CKIP-1 in space is primarily driven by a need to safeguard astronauts' bone strength during lengthy spaceflights, which are central to China's space expedition plan.
China's longest manned space mission to date was performed by Jing Haipeng and Chen Dong, the two astronauts who spent about a month in space in October last year.
"The one-month stay was impairing the bones of the duo," said Lyu, HKBU's dean of Chinese medicine and director of the TMBJ.
"As they were too weak to walk, they had to be lifted out of the capsule with the help of ground personnel once they touched down on earth," Lyu added.
In future space missions, China envisages completing the construction of an orbiting space station by about 2022. Astronauts would stay in the space station for three to six months on every mission, Yang Liwei, deputy director of CMSEO, said earlier at the 2017 Global Space Exploration Conference in June in Beijing.
Upcoming extended space flights create the pressing need to stave off bone loss for space crew in a weightless environment, said Liang Chao, an HKBU researcher for the experiment, who is also a postdoctoral research fellow of TMBJ.
Some studies asserted that a constant work-out might help restore bone strength, but Liang believes "it isn't sufficient to maintain a good bone health during months-long stint in space."
This limit has pushed researchers ahead to study the CKIP-1 gene in space, hoping the gene could fill the void.
Liang told China Daily the research team had already finished examining the time-lapse photographs of the cell line through several control experiments in Tsinghua University in Beijing, and they are now decoding the data. The result is expected to be released in the coming months.
If successful, Liang said, the experiment might point to the use of Chinese medicine to suppress the activity of CKIP-1, as a preventive measure against bone loss - which will allow astronauts to travel further in space.
Contact the writer at
honeytsang@chinadailyhk.com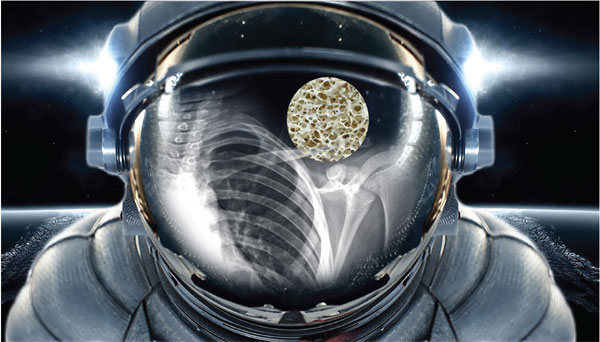 (HK Edition 07/07/2017 page8)