E-commerce boom - 'it all started in HK'
Updated: 2017-06-23 06:11
By Evelyn yu in Hong Kong(HK Edition)
| | | | | | | | | |
| --- | --- | --- | --- | --- | --- | --- | --- | --- |
|   | | Print | | Mail | | Large Medium  Small | 分享按钮 | 0 |
Hong Kong may lay claim to being the birthplace of the Chinese mainland's booming e-commerce after a group of Hong Kong businessmen bought commodities from the mainland in 2000 and resold them via marketplaces like Amazon and eBay and later Taobao - the shopping website created by online sales giant Alibaba Group in 2003, ostensibly as the mainland's answer to the US tech scoop.
"It's fair to say the mainland's e-commerce started in Hong Kong," said Stanley Lee, chairman of the E-Commerce Association of Hong Kong.
After years of exponential growth, the mainland has emerged as the world's biggest B2C (business-to-consumer) e-commerce market, hitting almost $900 billion last year - nearly half of the global online sales and 18.4 percent of the country's total retail sales, according to China Internet Watch.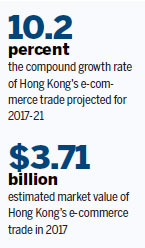 The revenue generated by Hong Kong's e-commerce trade itself is estimated to reach $3.71 billion this year, with a compound annual growth rate of 10.2 percent from 2017 to 2021, data from market research firm Statista show.
But, in terms of market size and development, the SAR seems to be behind the curve. "My mainland business friends always ask me: What's the place to sell online in Hong Kong? Unfortunately, as a small market of some 7 million people, we don't have a marketplace that can rival Taobao, Amazon or eBay," Lee said.
From the preliminary B2B (business-to-business) to B2C and today's much-talked about cross-boundary e-commerce, Lee sees Hong Kong's e-commerce gaining traction through its "super-connector" role in linking the mainland and overseas markets.
According to Lee, there're now at least 5,000 active Hong Kong sellers in major marketplaces engaged in cross-boundary e-commerce, either buying commodities from the mainland and reselling them to customers overseas through Amazon or eBay, or importing from overseas to satisfy the surging appetite of mainland consumers for overseas products.
Michael Chua Hing-ming, founder of Quabuy, a cross-boundary e-commerce platform, saw the business opportunities fueled by mainland consumers' growing demand for babycare products in the wake of the relaxation of the nation's one-child policy.
Last year, he set up Quabuy, which conducts sales through its website and WeChat stores. Currently, Quabuy has more than 2,000 skincare and childcare products on offer.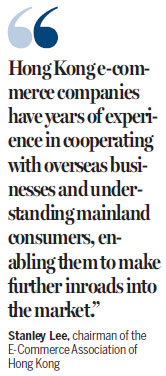 Chua sees Hong Kong e-commerce businessmen like himself benefitting from the country's favorable policies on cross-boundary trade.
He recalled that just a few years ago, exporting and importing goods on the mainland had been subject to general trade regulations that would make applying for a license under certain categories a tedious process as it could take up to half a year, which slowed the process and pushed up costs. He said only big names like Watsons and Manning could afford such resources at that time.
Thanks to the introduction of pilot cities for cross-boundary e-commerce, the inspection and quarantine procedures have now been made much simpler, he said.
At present, there are two modes of operation - the bonded imports category, which adopts the "stock first, order later" model, where large quantities of overseas goods could be stored in bonded zones before being delivered to customers after customs procedures; or direct purchase imports, which adopts the "order first, delivery later" model, whereby products ordered by mainland consumers will be sent directly from a warehouse abroad and dispatched to a designated cross-boundary e-commerce area before being delivered to customers upon completion of customs clearance.
As of 2016, there were 10 pilot cities for cross-boundary e-commerce on the mainland, including Shanghai, Hangzhou, Ningbo and Zhengzhou.
Most of the items are subject to a tax rate of 11.9 percent of the retail price which, according to Chua, is almost the same under the general trade regulations, but the pilot e-commerce programs have largely simplified the procedures, largely benefitting e-commerce startups like his.
Riding on the boom of the mainland's thriving e-commerce trade, Hong Kong has been both a seller and service provider.
"Hong Kong e-commerce companies have years of experience in cooperating with overseas businesses and understanding mainland consumers, enabling them to make further inroads into the market," said Lee.
Heaping high praise on Hong Kong people's entrepreneurial spirit, he said many local e-commerce businessmen would approach factories of overseas manufacturers directly, offering to help them enter the mainland market.
As a veteran e-commerce practitioner, Lee owns B2B2C online platform Sellyippee, which serves to connect manufacturers and retailers and combines B2B and B2C for an all-in-one cross-boundary e-commerce transaction.
Manufacturers could consign their products to Sellyippee - a Hong Kong-based B2B2C online platform. The items are first sent to Sellyippee's overseas warehouses in the United States, the United Kingdom, Australia and Germany. On arrival, they can be shared with hundreds of online sellers who choose the products and send them to their eBay store or web store with one click. When there's an order, Sellyippee will automatically receive the information from the seller's store and deliver the order to customers.
For companies wishing to develop cross-boundary e-commerce business on the mainland but are not well-versed, Lee and Chua offer services such as marketing, website design, customs declaration and delivery services.
According to Kenny CK, vice-president of the Hong Kong Netrepreneur Association, who also runs cross-boundary e-commerce on the mainland, 70 percent of his company's revenue is derived from e-commerce solution and service providers for various overseas brands, while 30 percent is from direct sales. Normally, the service provider gets 10 to 30 percent of the sales revenue, and he sees more overseas clients seeking his help, including those from Europe and Japan, while clients from Turkey ask for their nuts and wines to be distributed through Alibaba's Tmall.
Chua said he has no plans to expand his e-commerce business in Hong Kong, pointing to the market's relatively small size and the conservative policy of the Hong Kong government, adding that the demand and information technology that powers the e-commerce development are far behind that of mainland operators.
"I won't say Hong Kong people have no online shopping habits. But, if they want something cheap, they would go to Taobao, if they want good stuff they will go to amazon or eBay. I'll say Hong Kong people don't have a developed habit to buy local products online. The future of Hong Kong's e-commerce lies in Hong Kong's role as the 'super-connector' between the mainland and overseas rather than depending solely on the local market," said Lee.
evelyn@chinadailyhk.com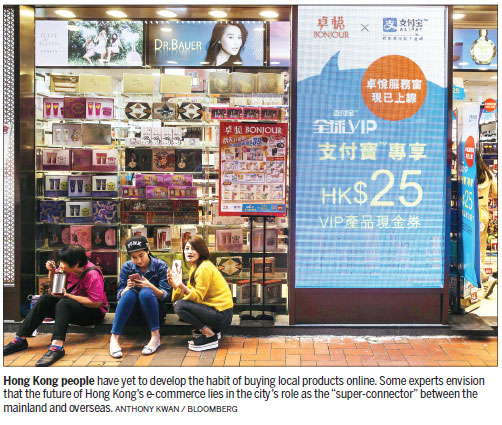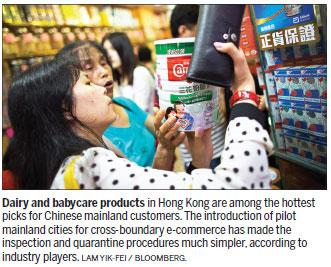 (HK Edition 06/23/2017 page1)