Clearing the fog around cloud computing
Updated: 2017-03-20 06:56
By Honey Tsang(HK Edition)
| | | | | | | | | |
| --- | --- | --- | --- | --- | --- | --- | --- | --- |
|   | | Print | | Mail | | Large Medium  Small | 分享按钮 | 0 |
HK's cloud computing infrastructure is advanced. The city ranks the most cloud-ready in Asia Pacific. Honey Tsang explores the pros and cons of cloud computing.
What is cloud computing?
Cloud computing locates storage of data, programs, and processing power, within dedicated server farms, accessed over broadband internet, by individuals and businesses.
It makes storage affordable for the exponential growth of personal emails, photos, and videos, for individuals. It allows companies to analyze data real-time and scale storage dynamically for peak loads, on pay-by-use contracts.
More and more large corporations and small and medium-sized enterprises (SMEs) in Hong Kong are moving their mission-critical computing into public cloud platforms - a service offered globally by tech giants like Amazon, Microsoft and Google.
The use of cloud technology has helped companies reduce IT costs, and redirect their recurrent savings into innovation, resource-optimization, business efficiency, and big-data analysis.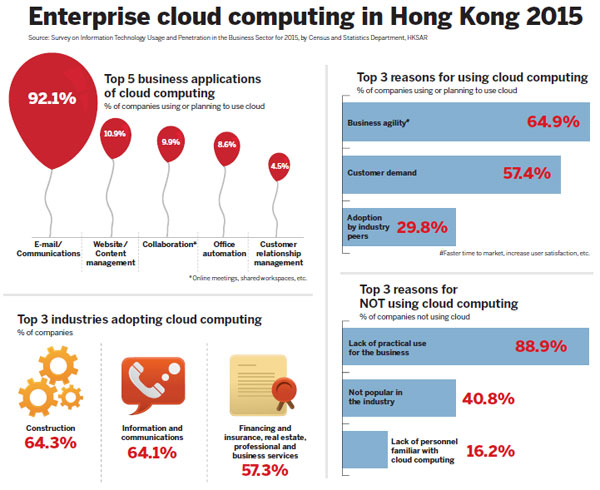 Govt facilitates data centers
In the 2017 Policy Address, Chief Executive Leung Chun-ying declared support for data center growth. Private owners of industrial buildings will be incentivized to transform their properties into high-tier data centers. To facilitate such conversions, the Hong Kong Lands Department will reduce red tape and compress processing time for waivers to just two weeks.
A cloud data center is a secure, temperature-controlled facility, designed to house vendors' server banks and data-storage systems. Hong Kong now has more than 40 data center providers and 50 data centres in industrial sites in Tsuen Wan, Kwai Chung, Tseung Kwan O and elsewhere.
The city's data center market was worth $616 million (HK$4.8 billion) in 2015. It is expected to reach $1.39 billion by 2020, according to Structure Research, a consulting firm's latest report. The local demand for data center capacity will keep surging, driven by cloud adoption by local and overseas users.
HK leads cloud adoption
Hong Kong has the world's second fastest internet connection speed, averaging 20.1 Mbps. The city ranked as the most cloud-ready location in the Asia Pacific region, in the 2016 Cloud Readiness Index (CRI). The rating computes several factors such as international connectivity, broadband quality, data center risk, privacy issues, etc.
"Cloud service is a mainstream technology. We see more HK companies take the 'cloud-first' approach, especially the SMEs," said Claudius Lam, chairman of Cloud Security Alliance (CSA) Hong Kong & Macao Chapter, a non-profit organization founded in 2012, to oversee cloud practices in the city.
In a survey on cloud adoption among 168 local SMEs, conducted by CSA and the Internet Society Hong Kong in 2015, 83 percent confirmed use or intent to use cloud computing - a big jump from 55 percent in 2014. In another business sector survey, 64.9 percent of enterprises embraced cloud computing for more agile IT solutions to drive their businesses.
Dominant global trend
Gartner Inc, a global IT research and advisory firm, forecasts global IT will become increasingly "cloud-centric", as the "default option for software deployment", said Jeffrey Mann, research vice-president at Gartner. By 2020, Gartner estimates over $1 trillion will be invested for the shift from in-house infrastructure to the cloud.
Cisco, a California-based IT firm, projects 92 percent of global computing to be processed by cloud data centers by 2020. It forecasts the global cloud data center traffic to reach 14.1 zettabytes annually by the end of 2020 - a 152 percent increase from 5.6 zettabytes in 2016.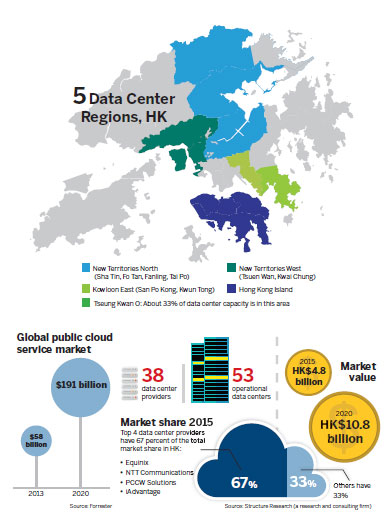 Forrester International projects the cloud service market to enter a "hyper-growth" stage and hit $191 billion by 2020.
"Organizations used to invest in costly in-house IT infrastructure," says Dean Samuels, solutions architect manager at Amazon Web Services (AWS), Amazon's cloud computing platform. "But now, we see startups deploy innovative ideas through cost-effective cloud computing."
Airbnb and Tinder have reaped the economic scaling benefits of cloud computing to thrive, added Samuels. Even the financial sector, which had security reservations, is now embracing cloud computing. Banks like Capital One in the US and Australia's Suncorp are committed to move into AWS.
Scalability boosts efficiency
In early 2015, Royale International Group, a medium-sized local logistics company offering international and domestic courier services for over two decades, won a contract to deliver products purchased from the Chinese mainland's biggest online marketplace Taobao, to 7-Eleven stores in Hong Kong.
"We planned to start small, and expand the business if it works out," said Steven Kwok, project manager at Royale International. "On-site IT infrastructure involved costly setup and was unscalable. We opted for cloud computing."
Royale engaged AWS in 2015 to devise a cloud-based system to support its 7-Eleven project for real-time inventory control. The team could also tune capacity to meet the high traffic in the morning, and downshift for lulls, to lower AWS usage costs.
Initially, Royale's cloud system linked to 50 7-Eleven stores, and swiftly expanded to 370 within six months. The company pays AWS a monthly fee which Kwok reckons is good value for the efficiency and flexibility.
Restaurant chain migrates
In August 2015, a power outage at Pizza Hut's in-house data center disrupted its online food ordering system for a few hours. The half-day stasis caused a steep drop in the company's overall revenue the following month. The firm had suffered previous outages of its fragile traditional data center.
The crisis prompted Ravel Lai, regional IT and digital director at Pizza Hut, to migrate its online ordering platform to a cloud data center. The transition to cloud computing saved the firm 10 percent of its budgeted IT expense, facilitating "double-digit growth."
Pizza Hut - a global restaurant chain which supplies American-Italian cuisine - needed three months to migrate its data to Azure, Microsoft's cloud computing platform. Apart from reduced overheads, the firm can test-run marketing trials to gauge response.
"One of the outstanding features of the cloud is its scalability," said Lai. "We can expand the service in a flash to meet demand spikes during peak hours, and shrink it back afterwards."
Marketing trials coupled with flexibility to quickly ramp-up cloud capacity, changes the business dynamics. "Without the pay-for-use cloud model, it wouldn't have been feasible for us to do so," said Lai.
What about security?
In 2014, Apple's iCloud was hacked. Nude photos of celebrities from their private cloud accounts were posted online. The culprit was sentenced to nine months in prison. He admitted breaking into more than 300 Apple iCloud and Google Gmail accounts!
Duncan Wong, vice-president of Financial Technologies Division at Hong Kong Applied Science and Technology Research Institute (ASTRI), who specializes in information security, says cloud users needn't be too alarmed by such security breaches.
"Data breaches happen everywhere, not just in the cloud. It is better for users to have big cloud providers look after their private data. They have the world's best information security engineers with sophisticated expertise, to limit the damage to a minimum once it happens," explained Wong.
Who owns content and IP?
Cloud data centers are geographically distributed. The question arises of legal jurisdiction across sovereign borders. There is no universally accepted and enforceable legislation governing ownership rights of private and corporate data, in data centers. Disputes over third party use of data have no clear legal framework to reference consistently across different jurisdictions.
Can your photos and videos stored in the cloud be considered property of the hosting service? Ethics aside, the small print in cloud service contracts often leaves that ambiguous. The European Union (EU) promised a new directive in May 2018 to set rules to tighten citizen control over personal data, within EU's member states.
Government concerns about terrorist activity in cyberspace add further complexity to the integrity of personal data held on cloud hubs. If the hosting service does not own the data, can such data be passed to governments? Can the cloud provider be sued by individuals whose private data is surrendered to security agencies?
Critical factors about cloud services
1. Hong Kong users can access world-class cloud computing services locally
2. Companies can opt out of excessive in-house IT processing investment
3. Government promotes data center growth. It allows conversion of industrial buildings
4. Hacking and power-outage risk is mitigated by the expertise of cloud providers
5. Ownership rights of cloud content needs universally enforceable legal standards
6. Whether cloud providers are legally liable for users' private data remains unresolved
Contact the writer at
honeytsang@chinadailyhk.com
(HK Edition 03/20/2017 page7)