SMEs urged to join Belt and Road Initiative
Updated: 2017-03-16 07:35
By Luo Weiteng(HK Edition)
| | | | | | | | | |
| --- | --- | --- | --- | --- | --- | --- | --- | --- |
|   | | Print | | Mail | | Large Medium  Small | 分享按钮 | 0 |
Hong Kong deputies to the National People's Congress (NPC) called for the city's small- and medium-sized enterprise (SMEs) to sharpen their edge and use their "down-to-earth spirit" to become the most dynamic players in the China-led Belt and Road (B&R) Initiative.
"Compared with State-owned enterprise (SOEs), SMEs stand as the most responsive and vigorous players in the China-spearheaded B&R ambition," Peter Wong Man-kong, a Hong Kong NPC deputy and chairman of Silk Road Hotel Management, told China Daily in Beijing.
This has much to do with the nature of SMEs, whose survival could be in doubt if there were zero orders on any single day.
"Basically, SMEs have to desperately tout for businesses on a daily basis, which propels them to respond to any fresh opportunities in a much more proactive manner," Wong said.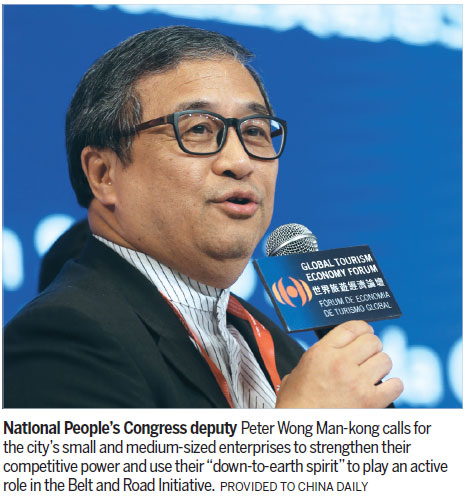 Some SMEs complained that deep-pocketed SOEs grabbed many opportunities but Wong believed SOEs and SMEs played different parts in the massive trade and infrastructure project.
Stretching across Eurasia and Africa, the high-profile B&R Initiative is a refreshing example of growth for the country's large-scale manufacturers and producers. But a huge ribbon of newly developed infrastructure could not do without raw and processed materials coming from SMEs, he noted.
"In that sense, SMEs' participation in the B&R push is a story of coordinating with SOEs, rather than directly competing with them," Wong observed.
More importantly, SMEs are always geared up to respond promptly to any urgent demand appearing along the route because of their smaller business scale. Such flexibility cements their roles in the landmark project.
Despite all the talk, Wong reiterated the importance of going global. What matters for SMEs is to take the step and obtain a closer picture of new markets along the route. This means SMEs need a comprehensive understanding of local cultures, consumption habits and demographics so they can make their products cater well to local consumers.
"All of these cannot be done if we talk the talk but don't walk the walk," Wong noted. He is a firm believer that success of the multi-nation initiative lies with down-to-earth players; less talk and more work is needed.
Another Hong Kong NPC deputy Pauline Ngan Po-ling, who is managing director of Mainland Headwear, the largest headwear manufacturer in Guangdong, concurred with Wong.
Her company managed to make a comeback amid ever-increasing labor and manufacturing costs by moving 65 percent of labor-intensive operations from Shenzhen to Bangladesh. She remains the first and only Hong Kong entrepreneur in the South Asian country.
"We have so many conferences and roundtables talking about the opportunities along the B&R countries and regions. Yet very few of us have made a move," Ngan said.
"Do you know what kind of country Bangladesh is? Do you know it turns out to be the world's second-largest garment exporter? Land prices there can be 20 times higher than those on the Chinese mainland due to its population density, larger than anyone imagined," she pointed out.
"The country is not far away from Hong Kong, with the flight time no more than 3.5 hours, equivalent to traveling between Hong Kong and Beijing. But it's still a much less-developed country, where 95 percent of local workers are illiterate and you can hardly find a single English version of Labor Law," Ngan added.
Such a wealth of information shed much light on how to do business in Bangladesh.
"Compared with Vietnam, where the majority of workers prove to be more educated and companies could be involved in high value-added business like electronics manufacturing, Bangladesh still sits at the lower end of value chain," Ngan noted. "Different countries and regions along the route have different competitive edges. But how could you expect to know that without taking the step to go global?"
Before going to Bangladesh, Ngan had never thought the infrastructure-hungry nations along the route could generate such an enormous demand for the Chinese mainland's energy-guzzling heavy industries grappling with the thorny issue of a supply glut.
"Much to my surprise, I could not even find a pile driver for the construction of a new plant in Bangladesh, so much so I have to import it from the Chinese mainland," she said.
"I believe such an astonishing fact speaks a lot about the huge potential of the B&R push to deliver some respite to the overcapacity woes on the mainland," Ngan said.
All the conferences and roundtables looked to make pitches and pave the way for the landmark project. But what mattered most is that SMEs lose no time in taking concrete action, with a do-it-yourself spirit.
Otherwise, it's merely an empty talk and pipe dream," she added.
Public-private partnership
As a pioneer and veteran who tapped the huge potential of cultural tourism along the Silk Road 25 years ago, Wong stressed the importance of collaboration between the private sector and government.
Concerns over legal systems and political instability in B&R countries continued to hold backcash-strapped SMEs which had a poor capacity to handle risks. Governments could provide information and help SMEs choose business-friendly markets, Wong said.
"In particular, for Hong Kong SMEs which typically fight alone to join the fray compared with their mainland peers, deepening connections with governments could help them achieve more and go further," he added.
Ngan believed Chinese embassies to B&R countries could act as go-betweens for entrepreneurs seeking opportunities along the route. Diplomatic missions would play a more high-profile role in the project, and not confine themselves to foreign affairs, she said.
Wong said the effort to fuel economic growth along the route was just part of their ambition. He portrayed a final goal as winning support from and establishing long-lasting partnerships with B&R countries and regions.
This is probably what Ngan has been working on. A local government in Bangladesh recently named the village where Ngan's business took off as "Mainland Town" after her company, recognizing her great contribution to promoting the employment, literacy and the social well-being of local people.
sophia@chinadailyhk.com
(HK Edition 03/16/2017 page5)