The Rio Olympic Games: A tale of two sporting cities
Updated: 2016-08-26 08:29
By Dominic Lam Man-Kit(HK Edition)
| | | | | | | | | |
| --- | --- | --- | --- | --- | --- | --- | --- | --- |
|   | | Print | | Mail | | Large Medium  Small | 分享按钮 | 0 |
This year's Olympic Games in Rio de Janeiro has, by most accounts, been a roaring success, despite serious pre-game concerns regarding finance, security, transportation and health issues (such as Zika).
In fact, this is an iconic and historic event for many reasons, first and foremost because Brazil is the first South American country to host the Olympic Games, as well as for finally winning an Olympic gold medal for its national sport: soccer!
Individually, on Aug 23 China Daily selected five stars for these games: Usain Bolt, Michael Phelps, Mo Farah, Simone Biles and Neymar. Although Joseph Schooling was not selected, what is truly amazing is that not only did he win the 100-meter butterfly competition, he also defeated his childhood idol, the "unbeatable" Michael Phelps. And in the process he brought Singapore its first ever gold medal!
This incredible feat has generated a revival of the old debate and comparison between two Asian cities with similar backgrounds and economic development: Singapore and Hong Kong.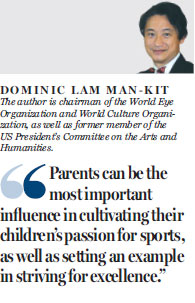 Between the games in Atlanta 1996 and Rio 2016, Lee Lai-shan won the first gold medal for Hong Kong while Singapore did not win any. Schooling's gold medal is significant in that not only did it put Singapore on the global sports map, it also led to renewed criticisms about the Hong Kong government's lack of commitment and failed promises to promote sports among our youth.
However, I question whether the Schooling phenomenon was a direct result of Singapore government policy and support for sports education. Accordingly, I went to Wikipedia and learned that Schooling studied and trained at the swimming powerhouse, Bolles School in the United States and has been studying at the University of Texas at Austin. Schooling is currently a member of the Texas Longhorns swimming team, one of the top collegiate swimming programs under two-time US Olympic men's head coach Eddie Reese.
Perhaps more significantly, Schooling is a third-generation Singaporean who came from a family of distinguished athletes: His grand-uncle Lloyd Valberg was Singapore's first Olympian in the 1948 Summer Olympics; his father was a hurdler, water polo and softball player; and his mother represented Perak, Malaysia in tennis.
It therefore seems that like the arts and other disciplines, sports education is best when it is started early and encouraged at home. Parents can be the most important influence in cultivating their children's passion for sports, as well as setting an example in striving for excellence. However, in a city like Hong Kong in which many parents have to work long hours, this is easier said than done. That is why charitable organizations such as Youth Outreach and the Hong Kong Federation of Youth Groups play such an important role in helping the healthy development of many children and young people.
In addition, top professional trainers and the right environment are vital for sporting excellence. However, since these are not normally available in Singapore or Hong Kong, training overseas might be necessary - as Schooling and many other outstanding athletes have demonstrated. In this regard, although the US has been a favorite destination for such training, Hong Kong has a distinct advantage in that the Chinese mainland is a world leader in many sports and can be an excellent location for the training of aspiring Hong Kong athletes.
In any event, it is also best to remember that participating in sports is good for one's health and not everyone has to be a champion to enjoy the experience. After all, even the International Olympic Committee stresses the importance of participation and harmony over simply winning medals.
Finally, on a personal note, I went to the 1984 Olympic Games in Los Angeles as a volunteer and served as a chauffeur for the China Olympic team during its first participation in these games. I was fortunate to drive for the Chinese women's volleyball team. I received a volleyball signed by all its members, including Lang Ping. It is therefore especially gratifying that in addition to winning a gold medal as a player in 1984, Lang won a gold medal, 32 years later, as a coach. Her hard work and inspiration to millions of athletes, not only in China but also worldwide, makes her a heroine of the 2016 Olympic Games.
(HK Edition 08/26/2016 page1)